I haven't prayed in public for over a year. And I gotta tell you, I had a case of nerves this weekend that coulda stopped a truck! I am badly out of practice! But this topic, these passages — well it was a privilege to be asked to pray into this particular service. And it fits the topic for today — the whole idea of 'stepping down' is completely counter-cultural . . . and completely Jesus.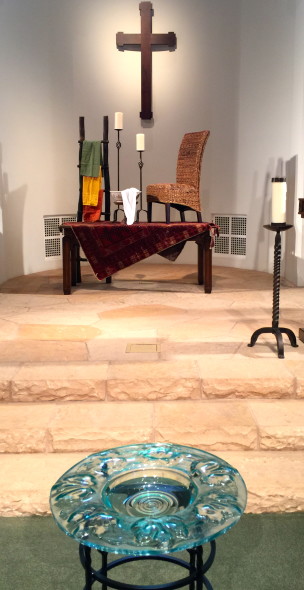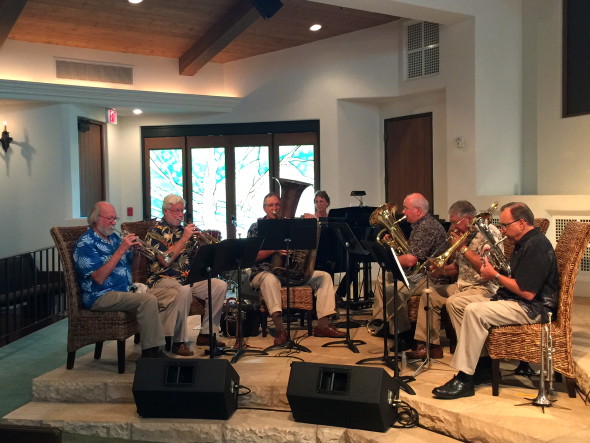 A Prayer for Worship
offered after a beautiful brass medley of:
"Amazing Grace," "Just As I Am," and "My Faith Looks Up to Thee"
October 18, 2015
Montecito Covenant Church
After reading all three scripture passages for the morning — which were incredibly rich! sometimes the lectionary outdoes itself — Isaiah 53, Hebrews 5 and Mark 10 —
this prayer somehow got a title and this was it:
The Great Reversal
Ah, Lord of Grace.
We hear these strong, joyful instruments
singing out about that great gift you
bring to each of us and to all of us:
the gift of your love,
your miraculous love,
that becomes real for us and in us
only because of your grace,
your amazing grace.
Grace that sees us exactly as we are,
and says, "Welcome. You are home here."
Grace that invites us to take a good, long look at love,
the kind of love that you have for us,
the kind of love that you call us to live out,
the kind of love that Jesus tells us about
in all those red letters in our Bibles,
in the actions of his life while
he walked among us, as one of us,
and in the powerful ways he both invites and
empowers us to live lives that are . . .
well. . . lives that are
completely cattywampus
to what everything else in this world tries so hard to teach us.
Grace . . . that says, "Do it this way,
the different way,
the upside down way that is also sometimes the difficult way —
do it my way."

The scriptures we've heard this morning,
and the one we'll look at in just a few minutes,
they all speak about this upside-down-ness, this backward way
of living lives that truly matter,
that make a difference.
The two lessons we've heard already each give us word pictures
that remind us that the way of grace
is not what we expect.
Not at all.
Because we confess, Lord, we like moving up.
We like being in charge.
We like feeling successful.
We like having people look up to us,
look out for us,
and count us as one of the 'in' crowd.
So when we hear these words today,
we have to admit that they're more than a little bit
jarring and disturbing:
the one who saves us and heals us
is the very one who is wounded and despised?
The one who intercedes for us with the Father
is the one who learned how to be obedient
in the midst of great suffering?
Doesn't sound like the status quo we understand. Not at all.
And in just a few moments,
we'll dig into the gospel lesson.
Oh my goodness!
Well, yes.
Exactly.
Oh. My.
Goodness.
And goodness trumps being part of the 'in' crowd, every single time, doesn't it?
Jesus tells us directly that we are to be people who model things like:
servanthood,
humility,
gratitude,
counting others better than ourselves.
That we are to happily start taking a back seat, not a front one,
that we must simply chuck the whole idea of
'moving up' —
in fact, we must embrace exactly the opposite
kind of lifestyle.
Oh Lord, we need help here.
This does not come naturally to us.
Your upside down ways
reach right down into the heart of us
and shake us up.
And make us think.
And make us aware of how far we are
from practicing the grace we have received.
So we ask for your help.
We ask first that you will help our pastor to tell us this truth
in ways we can wrap our minds around.
Bless him as he brings us this hard yet wonderful word.
And then help us to take what we learn and live it this week.
And next week, too.
Help us to embrace the backward,
upside down call of your son,
and our brother, Jesus.
And oh, Lord God!
Breathe your Holy Spirit into your body,
the church, both here
and all around this aching, broken world of ours,
and teach all of us this truth,
again and again —
it is in losing our lives that we gain them,
and it is in serving that we become leaders.
Forgive us for the ways in which we
forget, ignore, refute and too often,
actively counteract
the subversive power of your grace.
May we have eyes to see,
ears to hear,
and hearts to understand.
For Jesus' sake,
for Jesus' sake,
Amen.
Don preached well, the congregation was engaged, and after the sermon, we sang, "All Who Are Thirsty," and were invited to come forward and dip our hands into the baptismal font, reaffirming our baptismal vows, agreeing — once again — to live this countercultural life, this upside-down, cattywampus life.
Where are you learning more about living upside down these days??