Linking with Ann's community over at "A Holy Experience" to list again those things for which I've been especially thankful these last two weeks.  Got a little behind last week – sometimes life is like that, you know?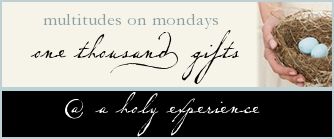 This week included a number of sweet and poignant moments of grace, each of which served to remind me of how truly blessed my life is, how marvelously I have experienced the faithful presence and guidance of God over the course of these years.  Using my camera to help me catalog and remember these gifts has been a meaningful and moving way to learn more and more about rejoicing, even in the middle of painful times.  So, here is the next set of images and words on my way to 1000!
 

42.  For the opportunity to write words of tribute to my dad (which I've posted here) in a comment on one of Sarah's posts over at SHE magazine.


43. Sharing in the celebration of my husband's spectacular fathering and grandfathering gifts with these gorgeous covered strawberries.
44. Finding scarlet amidst the growing green in our veggie garden.
45. Sitting in the warm sunlight, staring out the window at these beautiful heart-shaped red leaves.
46 -49.  Laughter because of this small sparkplug's amazingly plastic face – such a joy to us!
58. This lovely resting place at the end of the day, rhythmically saying thank-you for all of the gifts found therein.
59. These vibrant hydrangea, finally blooming richly 9 years after transplanting them following some construction work on our home.