My mother-in-law, Kathryn Trautwein, with my mother, Ruth Gold. Picture taken at Easter 3 years ago. Today they are 96 and 91 years old. 


When she's awake, she is often unhappy,
But once in a while, when I stare into her hazel eyes,
I see the Mama I've known for nearly 50 years,
the woman who bore my husband,
who welcomed me into her family,
who blessed my children with her loving care.
I see brief glimpses of the 
quiet feistiness that empowered her
to stand against the strict requirements of her
It was easier, she liked it and she didn't 
want to deal with the prayer coverings 
that all the women in her family wore. 
She shared their faith – she lived that faith
every single day of her long life.
But she did not share their restrictive way of
without an 'I'm-right-you're-wrong' attitude,
She simply made quiet, thoughtful shifts on the inside
that began to show on the outside.
She took me clothes shopping before we left for Africa, 
We were going there to live and work for two years,  
teaching school in a small Zambian town. 
She very carefully and gently advised me on 
skirt length, sleeve length, 
the best kind of shoes (closed toes), 
the simplest kinds of fabrics.
She knew that I would feel woefully out of place
 and would wonder why on earth 
I had come to serve with people 
who looked and lived so dramatically differently 
from anyone  
I had ever before encountered 
in my Christian life. 
She did not advise me to change who I was – 
she was far too wise for that.
But she did advise me to be more aware,
to honor those with different lifestyle values
while still being true to my own.
Mama was not one to offer advice very often,
preferring to keep most of her opinions to herself.
But she found us our first house to buy.
And she outright put her foot down when we got ready to
move from that house to another,
 one where the entire backyard was a swimming pool.
She never learned to swim, you see.
And we had two toddler girls and a baby on the way.
Even when we moved here to Santa Barbara,
our kids all grown and married,
she carefully let us know that she preferred  
one house 
we were looking at over another.
Always subtle, gentle, non-intrusive.
But there was steel there.
The kind that holds things together.
The kind that adds form and shape to life.
The kind that stands firm when the ground shakes,
She is 96 now and suffers from dementia.
She's fallen twice in the last four days,
her speech is suddenly very slurred,
Maybe the end is beginning.
as I stood in front of her recliner chair,
watching her sleep and dream,
I prayed the blessing of Aaron over her.
And I wept at the memory of her laughter,
her lifelong faithfulness.
You ask me what it means to be blessed?
to be blessed is to have a second mother
who loves you no matter what;
who doesn't always understand you, 
but who always, ALWAYS supports you;
who lives Jesus day in and day out,
keeps your little kids at a moment's notice,
adores her children and their children, 
understands why her husband reacts to life the way he does
and loves him like crazy anyhow.
This is blessing to me today.
this mother to my husband.
This woman who came to tea 
one day long ago,
driving 40 miles across town, 
sitting in the living room of the house where
I lived while attending UCLA,
and letting me know that if I was serious
about her boy, then I was welcome to his whole family.
Other than the family I was born to,
this has been the greatest of God's gifts to me.
And I am grateful.
Joining with Em's synchro-blog today. You can find other entries here:
http://www.emilywierenga.com/2012/08/what-it-means-to-be-blessed-synchroblog.html
Also with Ann and her gratitude linky: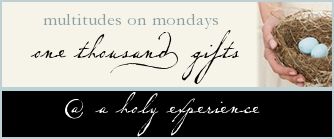 and with Jen and the sisterhood.