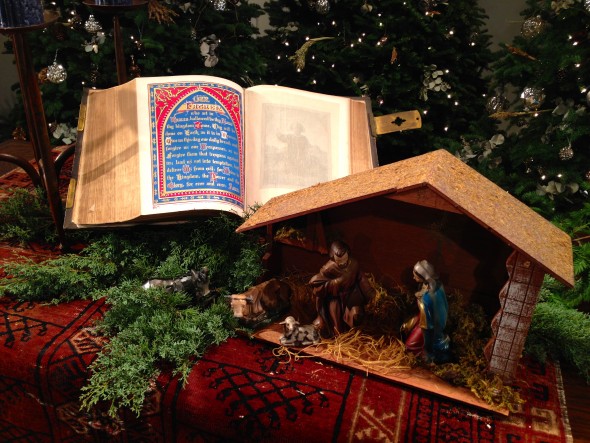 This is how Jesus the Messiah was born. His mother, Mary, was engaged to be married to Joseph. But before the marriage took place, while she was still a virgin, she became pregnant through the power of the Holy Spirit. Joseph, her fiancé, was a good man and did not want to disgrace her publicly, so he decided to break the engagement quietly.

As he considered this, an angel of the Lord appeared to him in a dream. "Joseph, son of David," the angel said, "do not be afraid to take Mary as your wife. For the child within her was conceived by the Holy Spirit.  And she will have a son, and you are to name him Jesus, for he will save his people from their sins."

All of this occurred to fulfill the Lord's message through his prophet:

"Look! The virgin will conceive a child!
She will give birth to a son,
and they will call him Immanuel,
which means 'God is with us.'"

When Joseph woke up, he did as the angel of the Lord commanded and took Mary as his wife. But he did not have sexual relations with her until her son was born. And Joseph named him Jesus.

Matthew 1:18-25-NLT
In my book, Joseph is a rock-star. Kind, generous, steady, committed, teachable, receptive.
God chose a good man. And sometimes, I wonder if Joseph's presence in her life might have been one of the reasons why God chose Mary, too. 
Not much is known about him and he is never mentioned as a living person after that interesting episode in the temple, when Jesus is 12. Tradition teaches us that Mary was widowed early on. Maybe, maybe not. What I do know to be true is that Jesus had a stellar role model in the man chosen to be his earthly father.
And that goes way beyond his lineage and heritage. Yes, he is in the line of David and that gives Jesus the traditional ties to his people that he needs to be recognized as Messiah. More than that, however, is the character of this man, which we see most fully in this short story, told only in Matthew's gospel.
I think Joseph loved Mary. That verb is never used, of course. It was, in some ways, a foreign concept in 1st century Palestine, at least in reference to married partners. But he clearly respected her, valued her reputation, wanted to do the right thing, the best thing.
Trouble was, he truly didn't know what that was. He assumed that the right thing was to let her down gently. To dissolve their legal commitment quietly, in essence, to divorce her behind the scenes. It took some divine intervention for him to see that his idea of the 'right thing' was wide of the mark.
So, how often do I get it wrong? How often do I make an assumption, based on cultural expectations?  And I mean church culture as well as 'worldly' culture when I ask that question.
Joseph was a good man. Matthew takes the time to tell us that. But sometimes, even a good man doesn't know what the right thing is. Humility is called for, and an openness to the workings of God within us.
That dream of Joseph's?
It was a life-changer and a life-saver.
But Joseph had to be willing to listen to it, didn't he? Sometimes, our dreams are where we discover what is right for us to do, too. I firmly believe that God speaks to us in our dreams — the ones we have when we're sleeping and the ones we have when we're awake. What we're asked to do is pay attention. 
Lord of our dreams, speak to us. Hearten us, encourage us with the dreams you raise in us, the desires of our hearts, the call you send to us through the vehicle of our longing. Help us to be more like Joseph – to deeply desire to do the right thing, but to be open to a new understanding of what that thing could be.