Sometimes, I wonder just how many of the world's ills are attributable to the 'not enough' syndrome?
You know the thinking — it shows up in all its various permutations:
"I don't have enough"
"I can't get enough"
"You're not enough"
"I'm not enough."
All tolled, I reckon the answer is . . . a fair amount. 
We've been looking at the parables of Jesus in Matthew 18 and 20 the past few weeks, the ones about forgiveness and generosity, about the many ways we tend to keep score in this life and how truly pointless it is. 
Think back to our story about beginnings and you can see it even there. Adam and Eve figured they didn't have enough and that they themselves were not quite enough, either. They listened to the sinuous voice of the Tempter and allowed it to rule over their better selves, the selves that knew and were known, the selves that saw all that God had made and knew it to be GOOD, the selves that assumed abundance.
That same thread can be seen weaving its sharp-edged, ugly way through so many of the stories of the Old Testament and so many of the word pictures that Jesus drew as he told his stories along the dusty roads of ancient Palestine.
Right in the middle of some of those stories is where we find ourselves in the lectionary readings as we move toward the end of Ordinary Time this month. 
A couple of weeks ago, we talked about settling conflicts in the community, about how important it is to face into the hard things faithfully, openly, honestly. We followed that up last week with Peter's question about forgiveness. "How many times, Lord?"
And the answer zinged back at him: "More times than you can count, my friend. An infinite number." And to underscore that truth, Jesus told that story of forgiveness and generosity, the one that is paired with an equally powerful picture of what can happen if we are not forgiving and generous. 
Look at our altar pieces for that week and see if you can tell which story I mean. Yeah, that's the one — the dramatically contrasting story of the steward who is forgiven much and then turns around and refuses to forgive a debt less than 1/10th the size of the one from which he had just been freed.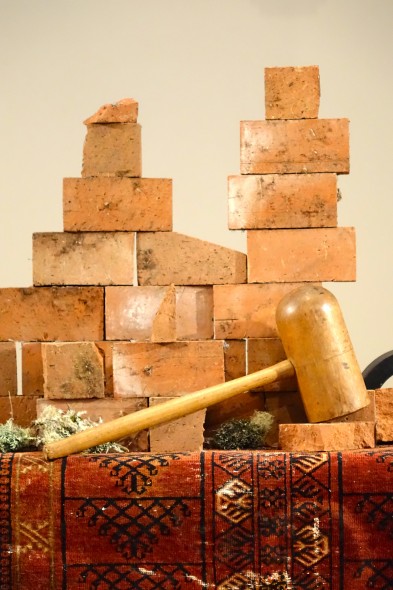 I love that our artists chose to use the image of breaking down a wall to picture this disparity. A giant mallet, contrasted with a tiny hammer.

A massive pile of bricks juxtaposed with one tiny half-brick.
We get it so backwards, don't we? The man in the story had received the gracious gift of a lifetime – he owed an incalculable debt. Huge. And yet he couldn't spread the goodness, he was unable to 'forgive' the small amount owed to him, choosing instead to cast his debtor into prison, breaking up his family, destroying his life.
This story always makes me wonder where my own stinginess lies, where my fears about not having enough, about balancing the scales, about making sure everyone is paid up — where that ugliness hides itself in me. Because it's there, I know it is.
Hanging onto hurt feelings over a casual remark when so many have forgiven my thoughtlessness over the years. Worrying that someone else will do it better or collect more friends or receive more invitations to fun events. Yeah, I've been in those judgmental, keep-the-upper-hand shoes.
Yesterday, the Jesus-story once again cut right through to the place I live, the one I hide inside my spirit. That score-keeping, compare-and-contrast, watch-out-that-you-don't-get-cheated place that I must regularly pray my way out of.

The story of the generous master, the crew-boss who goes out at regular intervals to hire workers for the field and then pays them all exactly the same wage. Exactly the same. Whether they started at nine in the morning or five in the afternoon, everybody got exactly the same pay.
Now, what, pray tell, is fair about that? Yes, that is exactly what I would have been saying. Grumble, grumble. "Say what? I've been sweating away all day long and that clown who came during the cool of the evening and didn't even work up a sheen — they're getting the same pay I got??"

Envy is like that, isn't it? Constantly keeping a mental tally of how much everybody else is getting and comparing it to what I have. Wanting to keep all things even. JUSTICE! 
Well, maybe not.
Because the landowner in this story is completely just, if you read it carefully and if you think about it at all. He promises the early workers a fair day's wage. And he pays them exactly what was agreed upon. But by that time, they've seen that he's given the late-comers that same wage and have convinced themselves they'll get more.
No dice. They got exactly what was agreed upon before they began the job. And also? A small, kindly lecture from the landowner.
And you gotta love this lecture:
'Friend, I am doing you no wrong; did you not agree with me for the usual daily wage? Take what belongs to you and go; I choose to give to this last the same as I give to you. Am I not allowed to do what I choose with what belongs to me? Or are you envious because I am generous?' So the last will be first, and the first will be last."

Now think about that for a minute. "Are you envious because I am generous?" Oh, ouch.
Oh, Lord, help me to celebrate your generosity at every turn, to recognize its beauty, to see your grace in every lovely gift bestowed by your hand. . . even when it doesn't exactly match what I think I should have gotten!
Help me to cease this struggle for enough, for what is 'fair,' for what I think is rightfully mine. Remind me that every good and perfect gift comes from your hand and that whatever I have and whoever I am — is enough. Because you are so much more.

To stop asking the incessant "Why?" and "Why not?" questions and to start paying attention to what is right in front of me.
To see the beautiful in the everyday, to look for the grace in every difficulty, to remember the loveliness of the small.

To whisper, "Thank you" thousands of times more often than I cry out, "Fix this!"
To look for the color, the glorious color of generosity wherever I find my feet planted, and to stop living as though there is a scarcity of everything or anything.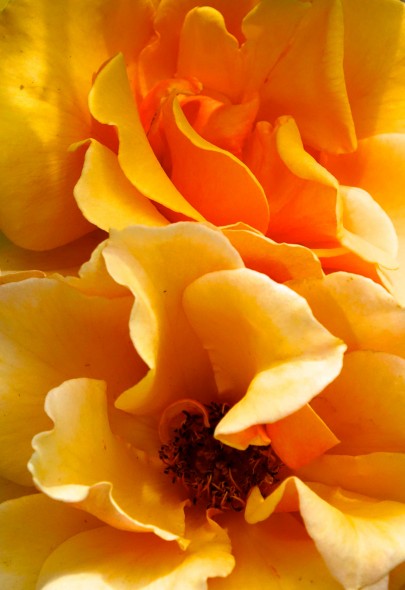 And help me to reflect your heart, to make space for cheerleading instead of comparison, for gratitude instead of grumbling.

In the good, strong name of Jesus, whose generosity amazes and astounds me, day after day.
Amen.