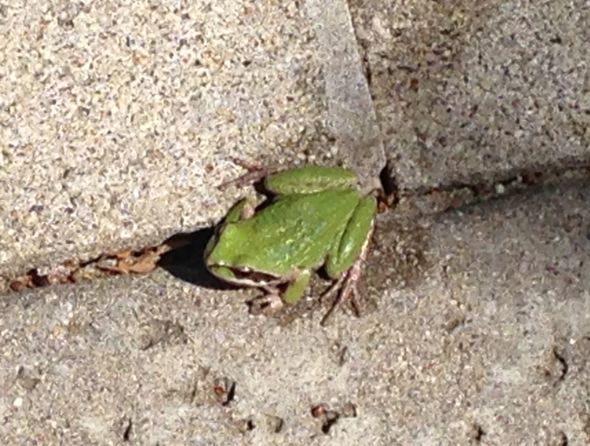 This little fella is someone we usually hear but do not see. He has a very basso profundo voice, and his song often accompanies our early evening reflections. 
He (or a very similar friend!) usually resides in the bottom of a large pot we keep on our front patio, but this past summer, we found him in the back yard . . . in our swimming pool!
He was swimming merrily along, but couldn't find enough traction anywhere to get himself out of the water. So we helped him along a little bit. He sat in the sunlight for a minute, to catch his breath, and then he hopped away. Who knows where he went next?
Small creatures captivate me. Even spiders. IF they're safely visible in their webs, not if they surprise me in the house. But these little frogs are delightful co-residents with us here in Santa Barbara. We look forward to their summertime music and enjoy their company.
I'm so glad that God made this world with little things as well as big ones. I love watching the recent video of our immense galaxy (featured by Ann Voskamp in one of her weekly collections of good things). But I also like looking deeply into creation to find the smaller things that keep everything going. On that scale, this froggie is not so tiny, I guess. But on my scale? He is tiny, indeed. And I am grateful.