I sit on our lanai, looking out over the bay beneath us, surrounded by tropical mountain tops, colorful flowering plants, and the gentle sound of doves.
This is a paradise, a gift to us all on this summer morning, and I am grateful. More grateful than I can say.
Those I love are well and happy, playing tennis or golf, doing jigsaw puzzles, playing marathon games of Monoply, taking hikes or bike rides, enjoying the warm, turquoise sea.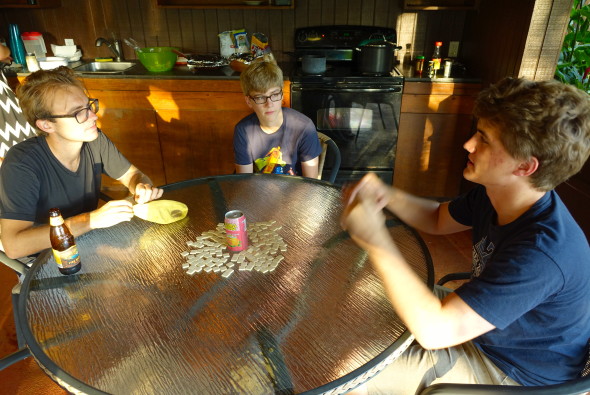 We're heading out to a special anniversary dinner tonight, and we've collected a few things to share while we're all around one table. A love letter from Dick's mom to his dad, one of our loveliest discoveries while sorting through 50 years of accumulated stuff the past six weeks. And a letter from his dad, after our trip to this same island 35 years ago to celebrate their 50th. A small photo album from my parents' 50th anniversary venture to this same place is in that pile, too, along with a letter from me to Dick on our 45th. We have small gifts for everyone to say 'thank you' for completing our family circle and to mark this time away together. Yes, we're all feeling blessed, grateful, and glad to be here.
Not that it's been an easy journey to this time, this place. No. Not easy. We lost someone we loved very much on this family journey, although I see him in his son's faces, hear him in their inflections, their chatter with one another.
All of our parents are gone now, except my mom, who doesn't remember ever being here — or ever being married, for that matter. Every one of us has had health issues of one kind or another over these years — it goes with the territory. But now, right now, we are well. And for that, we give thanks.
Not everyone we know and love can say the same thing this day. One friend has biopsies scheduled for tomorrow — brain tumors. Another is in ICU for the second week, recovering from a severe and terrifying health attack. One of my dearest friends is tending a scarily frail husband following a stroke. Another is recovering from radiation treatment, yet another facing into similar treatment very soon. One friend's unborn child is carrying scary portents in his small body; another is living out the bittersweet reality of Downs syndrome. 
We are such frail creatures, and yet . . . Even bearing scars and infirmities, we are wonders, intricate and profoundly sacred. Image-bearers all, and so often those with the deepest scars are the ones who reflect the clearest image. 
So today, amid the blessings and the obvious gifts, I also give thanks for the scars, the wounds, the struggle. Because these things are what have formed and shaped us, like it or not. We are who we are because of what we've lived — all of it. The good, the bad, the beautiful, the ugly. And I will give thanks for it, with hands open and heart unafraid.
A small sparrow lands on the table before me, one talon missing. Standing on the tabletop, this creature is off balance, out of kilter. But as he swoops away, all awkwardness vanishes. And all I see is glory. Glory. GLORY.