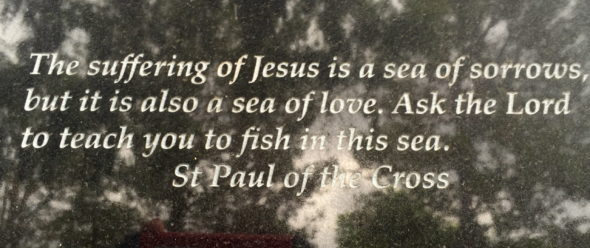 We have a small fishing industry here in Santa Barbara. I love to see their small boats sitting just off shore during the various seasons of the year — lobster, crab, salmon. halibut, even sea cucumbers!
They look tiny against the horizon, don't they?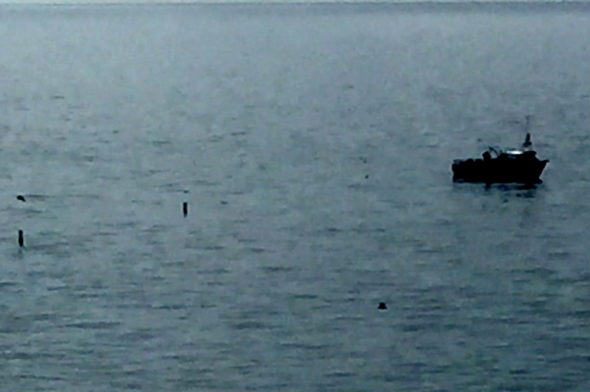 This one was checking traps last week — you can see the trap markers to the left of the picture.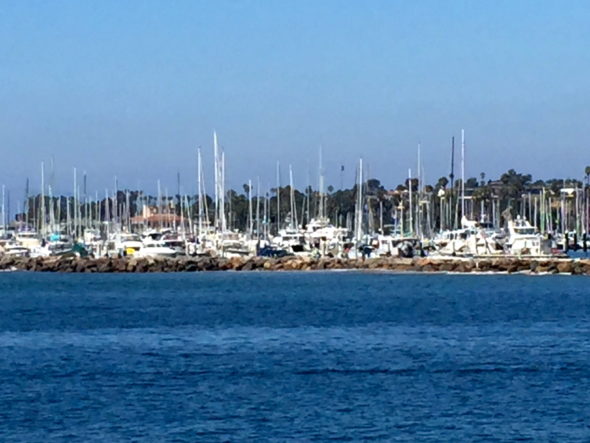 Working boats and pleasure craft share our marina space and each type brings its own unique kind of beauty to our waterfront. I love to watch a graceful sloop or a sturdy looking catamaran sail by. But it is the working boats my eye is drawn to most often. Some of those boats have been part of the story of our town for decades, holding deliciousness in their freezers and hard working men and women at their helm.
Fishing is work. Yes, it is often pleasurable. But it is work, first and foremost. And somehow the phrasing of today's quote from St. Paul of the Cross stirs in me a deep reminder of that truth. To fish in the sea of Christ's sorrow is work, plain and not-so-simple. It does not come naturally to us to reflect on sad things, to step into another's suffering and see what nourishment we might find there. But oh! It is good work. And necessary work.
Once again, the key word in this quote is 'love.' If we can firmly hold onto that powerful truth, everything changes. Christ willingly stepped into that sea of suffering because of divine love — divine love for human persons. This is the kind of 'atonement theory' that resonates with me at the deepest level: for God so loved the world. This is the bedrock truth of our faith and taking time to fish in these good waters is one of the healthiest and most life-giving things we can do.