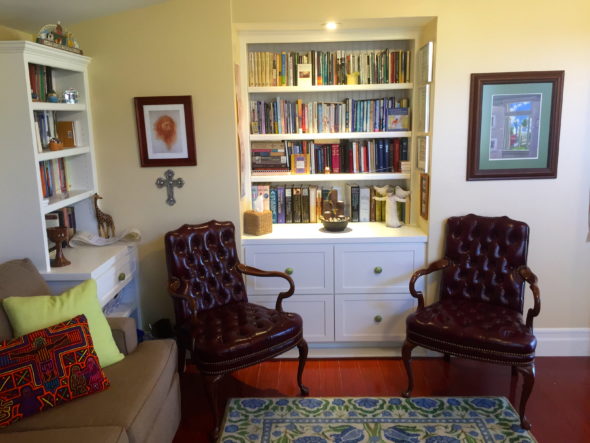 This is where I do a lot of listening these days. This is my small study and these are the chairs that I use for spiritual direction appointments. I sit in the one on the right, my directees in the one on the left. And together, we listen.
We listen to his or her life, we listen for the whisper of the Holy Spirit, we listen to the silence. Listening is a tough thing to do well in today's world. We love noise, don't we? We like being busy, getting up and getting going. We distract ourselves in all kinds of ways. We all do it, and none of it is terrible. In fact, reading, watching well-done television or movies, napping, talking — these are good things to do. But I wonder, how well are we learning to listen while we live these busy lives of ours?
It took three years of special training for me to learn how to do this kind of listening and I'm still learning about it, every time I sit in that room. It takes time, patience, intention. And it takes skill, which is something that only comes with time and experience. This ministry is very old, having been a part of the more liturgical wing of the Christian church for centuries. But about midway through the last century, the rest of the church began to catch on. Learning to listen to our lives and to discover God speaking through them is a great gift; I love the privilege of doing it with others who desire to go further up and in.