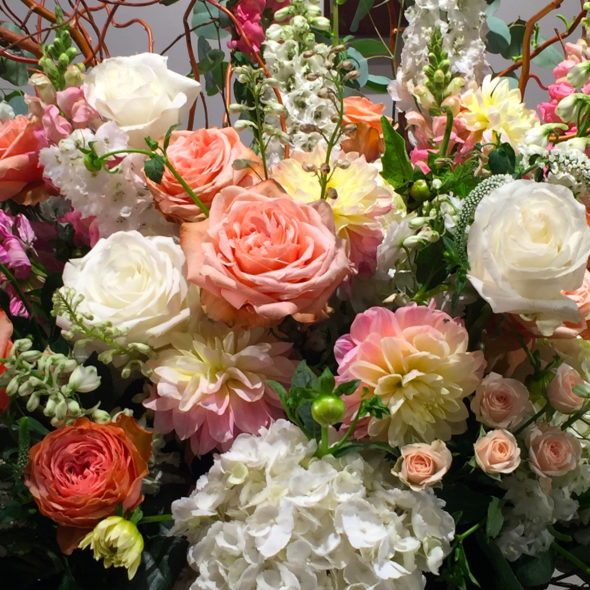 What story do these blooms tell? A wedding story, I believe. Hopefully, a happy one, presaging a long and fruitful life together. They showed up in our sanctuary one Sunday morning, after the big event the previous afternoon. Their beauty struck me, all the way in my back row seat, and I simply had to go forward and view them more closely.
Aren't they lovely? Subtle shades and variations, differing textures and sizes, some round, some spiky — all of them testimony to the glorious diversity of floral beauty so easily available to us. I used to work with flowers. I began with my eldest daughter's wedding in 1987 and closed up my small shop after my middle girl's big day in 1994. Enough was enough. By then I had completed my seminary degree and was working through the hoops for ordination while pastoring in my home church. Within two years, I would move 100+ miles away and begin a new life, a new career, find a new home and build a new community. I was more than happy to let others work with flowers in this new place and to appreciate their beauty whenever they showed up in our altar arrangement. 
This one caught my eye and caused me to stop and ponder — again — the healing, comforting, encouraging power of beauty in this world.