This week's 'Living the Question:' How do I make all the pieces fit?

Next week's Question: Why do bad things happen to good people?

Links to each post in this series can be found in the introductory portion of this post.
So, it's been a week.
Not one of my favorites,
and I'm looking for the lessons in it.
So far, I don't like what I see.

Because what I see is the truth:
some days, life stinks.
People you love deal with worrisome things,
you feel like you're caught
in the middle of a personal
third-time's-a-charm kinda deal,
only there's no charm to be found.

And that close encounter with a good God
you had last week?
Well, that's last week's news.

But then. . .
you read words that nourish,
or you spy a photo that 
gives your soul wings.
A bird calls,
the breeze blows,
and the sun shines brightly
on the water.

And you remember.
You remember that this is
what it means to be
a human person,
living on planet earth.

There is so much pain,
struggle, outright evil.

And there is so much beauty,
goodness and wonder.

Together. Always together.

And most of it is way beyond
our power to control.
Yes, we are invited into a
partnership, of sorts.
A dance, with the God of the Cosmos,
who chooses to work stealthily,
covertly, through very leaky vessels.

Like you. And like me.

And there is no explaining it,
not any of it.
Except to say
it is, indeed,
a mystery.

And the bigger mystery,
at least to my eye,
is this one:
the good stuff.
All the good stuff:
the beauty of creation,
the selflessness of some,
the revelations of modern
science and technology,
the miracle of a true friend.

Large or small,
new or old,
I cannot find a way to
tell you why there is anything
redeemable at all
in this crazy, wide world.

If I think about it at all,
which I do, on occasion,
I 'get' the bad stuff,
the 'nature, red in tooth and claw.'

But I can't for the life of me 
figure out why
a hummingbird hovers
so perfectly,
or when love happens,
or why it lasts.

I can't reason it out,
make it fit the facts.

So I'm learning to live in the 
valley between,
holding two realities in
creative tension,
very, very loosely.

And in the process,
I'm learning more about God
and more about myself
than I sometimes wish I knew.

But then, that's the way with questions, right?
That's the way with questions.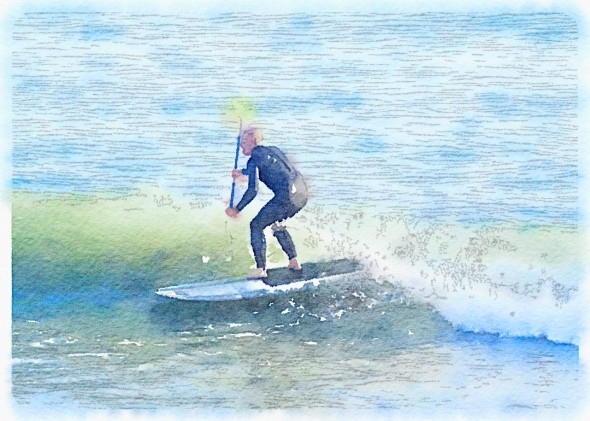 Not sure I feel exactly upright this week, but looking at this photo, 'watercolored' through a phone app, reminds me that it's good to keep afloat whenever possible! Just these few quiet reflections for you all today as I continue to recuperate from the flu. I did find this wonderful comment today, from one of our regular conversationalists to another in the comments section of one of their blogs. A lovely summary statement of 'making the pieces fit,' I think. Please let me see your words on this important question. Maybe by wrap-up day, I'll have a few more to add, but I'm not countin' on it!
"I feel like a 'work in progress' too! What else can we be unless we determine to stop growing. Sometimes the chisel cuts, sometimes the smoothing away of rough corners hurts. But unlike works of art we take part in our creation and moulding. And we know that the desired outcome is nothing less than to make manifest our unique beloved perfection." – from Juliet's comment on Joy's blog
Click on the froggie to link your specific blog post. It looks different because it is different. Starting last week, they changed the system.