I am honored to be contributing to The High Calling's special week on the decisions and transitions of mid-life. And this particular post will show up on the date that would have been my parents' 73rd wedding anniversary. I was asked to write a letter to my younger self. Not my teen-aged self, nor my 20's or 30's self – but my mid-life, 50-year-old self. . .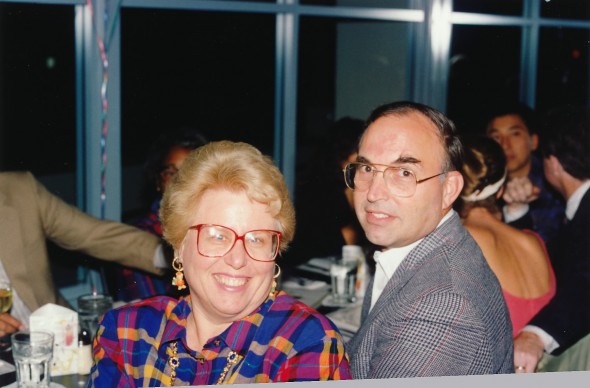 Dear girl,
Yes, you always will be a girl—or at least part of you will. Fifty feels decidedly ungirlish, I know, but believe me when I tell you this: fifty truly is nifty.  Such a great age! The hard work of growing up, navigating relationships, figuring out what it means to be married, to mother children, to be a daughter-who-is-also-an-adult, to manage work and home—that's all behind you now. Yes, you'll keep discovering new ways to do all of the above, but the steepest learning curve is behind you. Honest.
And ahead of you? Oh, my! So many rich and wonderful things, so many interesting choices, and so much to give. All those years you've been living? There are people who need to hear about what you've learned. And there are so many creative ways for you to use what you've learned in new ways. There's a lot left to do—even better, there's so much still to be.
Turning fifty formally introduces the second half of life, that rich season of growing an inner life as well as an outer one. Please don't waste a minute of it. Keep reading about contemplative practices, carve out time for daylong retreats, continue to work with a spiritual director. All that personal work you began in your 40s will continue to be formational and powerful, especially as you step out into the next big phase of your professional life. You don't know it yet, but in two years, you'll make the biggest move of the last thirty, moving in every way from all that is known and familiar, geographically and personally. And you'll do it so that you can take a new job. Yes, you.
Here's what you'll discover: everything you've done up until now—caring for small children, juggling commitments, carving out time for yourself, learning how to let your spouse and friends help you understand yourself, the growing appreciation for how God has wired you—all of that will make you the best possible employee, the best possible you for whatever comes next.
Please do come on over to one of the finest magazines on the web and let me know that you've been there, okay? Just click here . . .