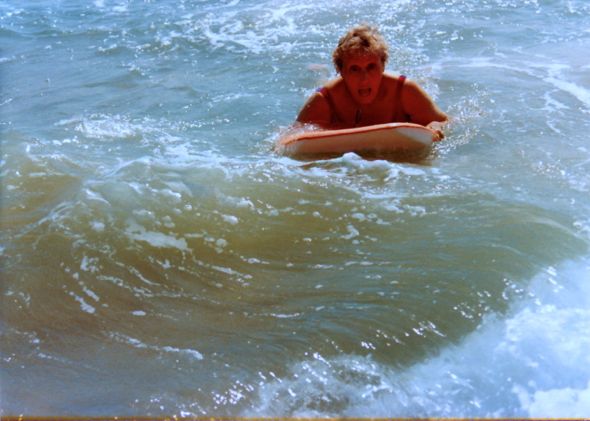 If you've followed this blog at all, you just might recognize the woman in this photo. This is my mother. The mom I remember, the one who loves the ocean and sometimes takes amazing physical risks.
She was in her 60's when this picture was taken. And she had a ball that day. I think it may have been the last time she ventured onto a boogie board, but she loved every minute of it! 
My memory of this picture told me that she was laughing uproariously. But, as you can see, she is not exactly smiling. She looks more than a little bit worried, truth be told! And I get that!
I have long admired my mother for days like this, for making life an adventure and taking a chance. These were baby steps to be sure; she didn't venture out into very deep waters. But I didn't care. I was thrilled that she went out at all! If I could figure out a way to do it without having to wash up onto the beach and then get these knees of mine to get me up off the ground, I'd try it again, too!
Baby steps are still steps, right? Yeah!