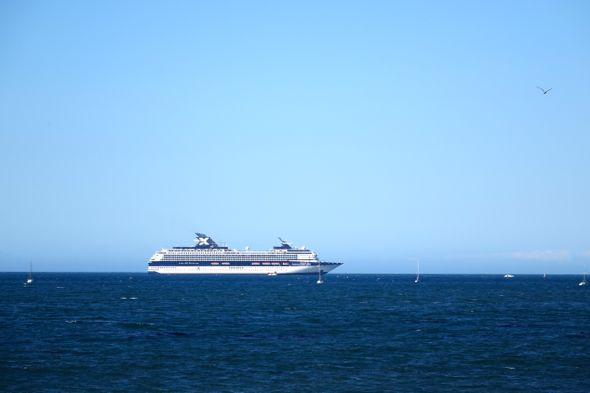 I know, I know. Just two weeks ago, I wrote about the HUGE cruise ship in our harbor. I was comparing it to the small shore birds that I find so fascinating.
And you're right — it is huge. But here's what I want to remember today. Standing on the ship, or next to the ship, or even across the harbor from the ship, it does look huge. And it is, indeed, very large.
But seen here, on the page, or from high on the hill behind my house, that huge ship looks tiny. Yes, it does. If you can get far enough away from it, and see it against the backdrop of the great Pacific Ocean, that thing looks tiny.
It's hard to believe, but it's so very true. The size of things can shift, depending on our perspective. This is something I am continually learning! I can too easily get stuck in a worry-cycle over things that require me to take a giant step back, and look at again. 
How do you remind yourself to change your perspective when things feel overwhelming?