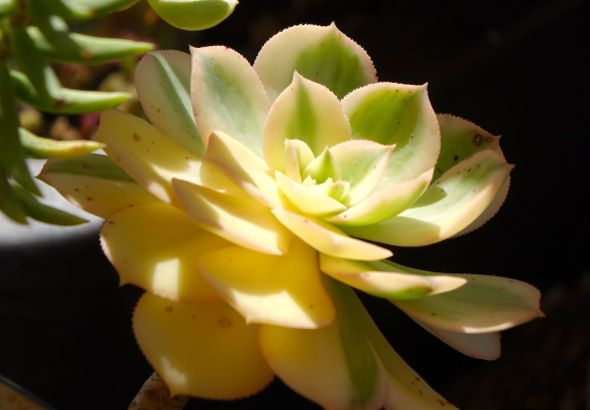 It was early August, just about six weeks after my foot surgery. Our eldest daughter and her family had rented a beach house nearby and they invited the rest of the family over for a swim and dinner. I definitely did not swim, but I did sit and enjoy the scenery. Oh, yes, I'm good at that!
The house they rented was just back from the sand. In fact, the front yard was filled with the stuff! But all around the edges were several beautifully landscaped succulent gardens.
This one was right in front of me, in the chair where I set up shop, with my newly acquired walker-with-a-great-seat holding up my booted foot. As the afternoon began to darken, the angle of the mid-summer light caught the petals of this rose-shaped plant and made me gasp. Who knew a succulent could be translucent?
People who have never lived in California tell me that they would miss having seasons, would be bored by weather that is too similar year-round. But we do have seasons here, they just don't look like the traditional ones. And those seasons are marked by the angle of the light, as well as by falling or rising air temperature and/or rainfall.
It's one of the 'little' things I enjoy most in my life: observing how the sunlight changes how things look, depending on where the sun stands in the sky. The shadows lengthen, and the sun sets directly over the ocean in the fall and winter months. Only then.
Ask me how I know this! (I bought my first good camera in May and drove 60 miles trying to find a sunset over the water. NOPE. But in January? Spectacular.)