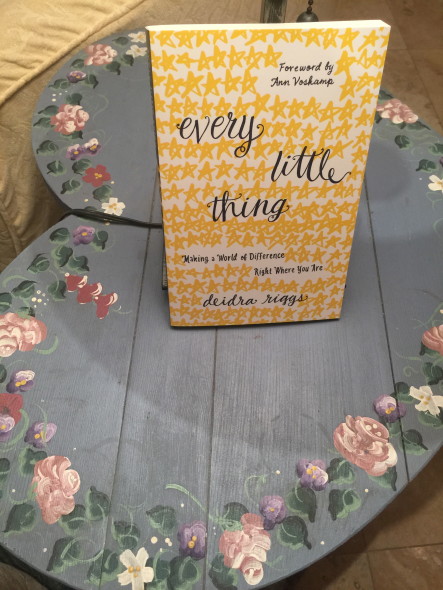 When you read a book written by a friend, you can feel a little nervous, you know? What if I can't get through it? What if it's tough to find something positive to say? How do I handle it if I really wouldn't recommend this to anyone else?
Well, my friend Deidra Riggs has written a book that is launching next week. And, yes, I was a tad nervous as I began the rough draft I received as an advance copy (only the format was rough, by the way — not the writing!). You know what? By the first sentence, I was hooked. And also? Relieved and so very grateful.
"Every Little Thing: Making a World of Difference Right Where You are," is a gem of a book. An absolute gem. Every page glistens with love, attention to detail, lovely writing and thoughtful theology. Yes, theology. Deidra would tell you (and she does) that she is 'no theologian,' but I beg to differ. She is the best kind of theologian, in my book, because she takes the truth that she finds in scripture and the truth that she discovers in her own walk as a follower of Jesus and she wrestles with it, distills it, and serves it up with joy and delight. That's what I call theology. She lets her own experience of the surprising grace of God shine through her words, looking at characters in scripture and telling pieces of her own story along the way.
The heart of her message is exactly what the church needs right now: the beauty of the ordinary, the truth that small acts done in love can change the world, that no one is unimportant to the work and health of the kingdom in this place. "Every little thing" done with heart and commitment is what it's about, beloved church. Every.Little.Thing.
Not big programs
Not big numbers
Not a business plan
Not even a visioning process.
No. The simple, beautiful truth is that WE — you and I, every single one of us — are the church, the hands and feet of God, the living, breathing presence of grace and gospel good news in this world. And none of us is too little, too unworthy, too insignificant for the task and the joy that is ours. Not one.
Every chapter is rich, but the two on wilderness and breathlessness are simply stunning. And I mean that with everything that is in me. Stunning. And exactly what I needed right now. Maybe you need them, too? If you would like to be entered in the drawing for the beautiful, brand new copy I have in my hands, just leave me a comment and I'll pick a name from a hat and send it off to the lucky recipient. Last date to leave a comment is Launch Day, October 6th – that's next Tuesday!
I have six typed pages of favorite quotes from this little book and I'll leave you with one from each of my two favorite chapters:
"I have to be honest and tell you that a God-sized dream might surprise you because of its smallness. It will push you to the very edge of your comfort zone and right into the desolation of the wilderness. And it won't always stop there. . . the wilderness is uniquely suited for putting us in a situation where God can get a hearing from us. Without resources, stretched far beyond our abilities, and with hope consigned to the garbage bin, we want out of the wilderness, but God desires to bring us through. And he is right there with us. He doesn't send us into the wilderness and wait for us to emerge on the other side. No. God walks every step of the wilderness journey with us, and he shapes us as we make our way through."

"God is in the wilderness. Go there. You can trust him to meet you right in the middle of your wild and worn and weary places. Take off your shoes. Tear off your pretense. Skip over the polite conversation. It's you he wants. Simply you."
And from the one on breathlessness:
"Sometimes breathing is the only prayer we can pray, and God hears our sigh and once again breathes the breath of life into us. We exhale, and it seems like such a little thing. But some days, it is everything. It is communion — intimate and more than breathing oxygen and exhaling carbon dioxide. It is sacred and it is holy: this agreeing with God that we need God, for all of everything, and his joyful entering into our lives and ourselves and our very souls to make us one with him."
Yeah, you need this book. You really do. I happen to know and love Deidra. But even if I didn't – I would be thrilled to send you this book. And if you don't win? BUY ONE. You will not regret it.