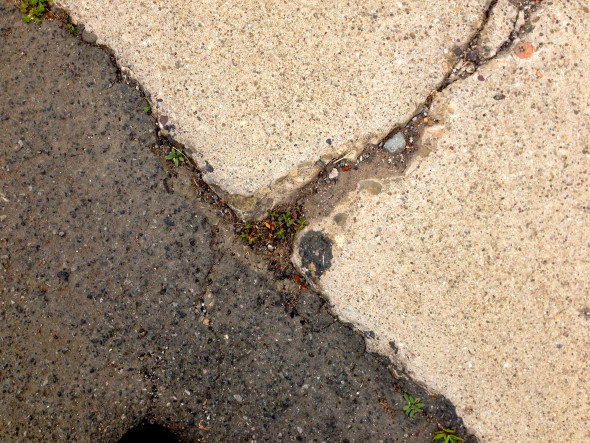 Do you see that rough looking spot in the pavement in this picture? There is about an inch-and-a-half difference between the asphalt and the concrete in this particular roadway. It's the one that circles our local cemetery here in Santa Barbara, a place I used to love to walk.
But in February of this year, my left foot — which was surgically altered ten months prior to this event — got caught on that inch-and-a-half difference and I went down, face first, into the asphalt. After I hit the ground, that poor roadway looked like this: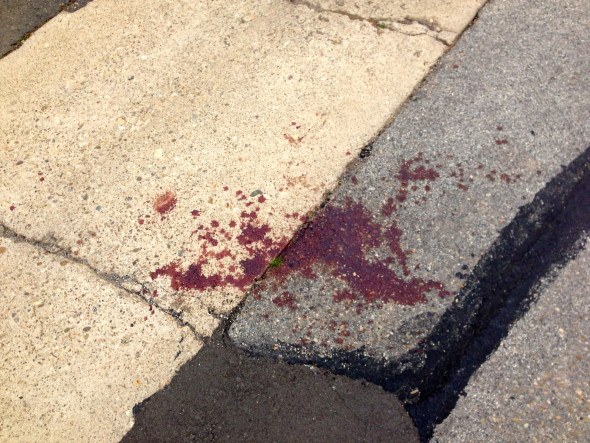 Because I was on blood-thinning medication, I had to spend the next 24 hours in a hospital room, being monitored for a possible brain bleed. The hospital room came after driving myself to the ER and having stitches put into FIVE locations around my face, including inside my mouth. Thankfully, the brain bleed never materialized. 
Within about five days, this is what I looked like: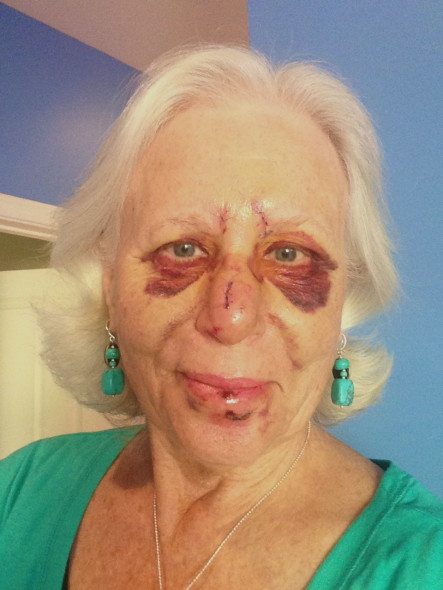 I know, I KNOW!! Almost as bad as the roadway, and downright scary, right?
Less than three months later, I misstepped coming out of the back seat of my car after I'd gone to retrieve something while visiting my daughter. I landed on my bum, hard, and then on the back of my head. I refused to go to the ER that time, but four days later, I felt the worst pain I've ever felt in my life as I turned over to get out of bed in the morning. Something tore – I could feel it. I found out later it is called the abdominal rectus sheath muscle, and that sudden, searing tear is a rare side effect of the particular blood thinner I was taking, most probably complicated by the fall at my daughter's. That little event led to TWO nights in the hospital, with lengthy intravenous treatment to reverse the effects of the blood thinners and stop the internal bleeding. I had a humungous lump in my gut, just below my lower left rib, that slowly dissipated over the next couple of months, causing some very funky bruising all along my left side.
To say these two events were distressing is a massive understatement. The very best thing that came out of them is that I am no longer taking blood thinners — HOORAY. And the second best thing is that I am now very, very careful where I put my feet.
From my bed in the ER during that second event, I called my foot doctor and asked him to please order some specifically targeted physical therapy to help me with my balance. The surgery with its L O N G recovery (no weight-bearing for eight weeks) had left me feeling off-balance much of the time. My post-surgery therapy had worked on strengthening my newly re-created foot, but this second, targeted round of PT has made a wonderful difference in my sense of balance and I am grateful. (I still do two of the exercises every single day.)
These scary episodes have underscored for me the truth that this body, she is gettin' up there. She simply is not what she used to be. So I find myself looking down a lot these days, being extra-careful where I walk. In fact, I am much more cautious in general. I have never been a daredevil physically, but these days, I'm an out-and-out scaredy-cat.
And that care, that caution has become something of a metaphor for me in other areas of my life as well, most particularly with words — both spoken and written. Watching my step can be applied in lots of way, it seems to me.  
What about you? Where are you becoming more cautious and watching your step as you get older?