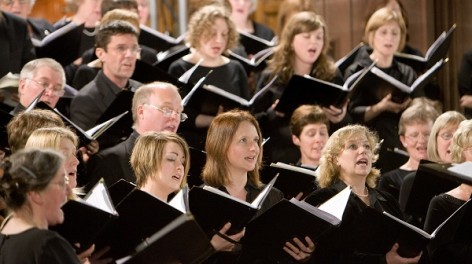 I am writing this on a Tuesday morning. And Tuesdays are now very special days. Here's why: August marked the beginning of semester number two for me to sing with the local Concert Choir at our community college. I began last January, soon after that BIG birthday event, and except for those unfortunate hospital stays during the spring, I've been in that rehearsal room every Tuesday of the school year.
I've loved to sing for as long as I can remember. Joined the kids' choir at our downtown LA church at the tender age of five and kept right on singing in choirs until I moved to Santa Barbara at the age of 52. Nearly 40 years of being in choirs!
And then I stopped. Why? Because our church did not have a weekly choir to join, that's why. We did sing seasonally the first few years I was here, but even that dropped away about seven or eight years ago.
Then a talented and kind woman in our congregation formed a small ensemble that sang in worship one Sunday and I was simply overwhelmed with how much I missed that kind of music. Initially, I was not a part of that group — and that, I will admit, was more painful than I ever would have guessed. In truth, it was stunning how much it hurt not to be included in their number. And in earnest conversation with my pastors and my husband, I began to realize that choral singing was a piece of my own story, my own identity, that I had buried for way too long. And I was strongly encouraged to find somewhere to sing.
So I did a little online research and found this college/community choir. And I HAVE LOVED IT. One of the hardest things about that second hospitalization was that it forced me to miss our spring concert. I am bound and determined that I will be there for the Christmas one! We're doing Durufle's beautiful Requiem Mass and tonight, we're supposed to get the music for Ralph Vaughn Williams' Five Mystical Songs — settings for poems by George Herbert, who is a favorite of mine. Not exactly typical Christmas music, but it will be fun to work through. Challenging stuff — and I'm delighted that it is. My voice is not quite as steady as it once was, but I'm still a dang good reader.
It's interesting how the pain of exclusion served as a huge wake-up call for me, forcing me off of my duff and helping me to do a little exploration of the possibilities. This choir is roughly 50% college students — and 50% old folks from the community. Pretty much exactly what I needed right now.
And then there was this lovely bonus: I was invited to sing with that church ensemble right after their first attempt last winter — and I'm loving every minute of that, too.
What do you love to do? Has it gotten lost, maybe buried under too many other things you love (or don't love)? How can you help all the pieces of yourself to re-emerge?