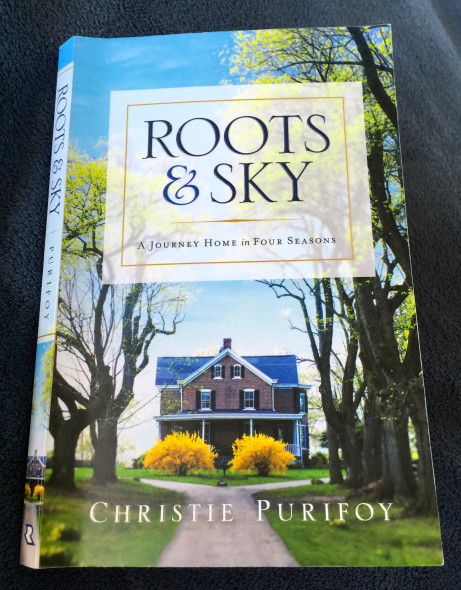 This book is a beautiful and deeply true gift to the world. It is a book to be savored, read over time, with pen in hand and fingertips at the ready — ready to bend down corners of page after page after page . . .
Christie Purifoy invites us into her life, one year in her life, to be exact. Moving through the seasons from autumn through summer, from late pregnancy to early toddlerhood, from the wilderness of Florida to the welcoming joys of a very old house on a hilltop in Pennsylvania, she lets us see life through her eyes.
And what beauty-seeking eyes she has! Her reflections on the life she lives are deep, rich, honest and gloriously articulate and thoughtful. Maplehurst is an old, brick farmhouse, now surrounded by a brand-new neighborhood of tract homes, a place far from family, yet a place that becomes home in every way you can think of.
Along the way, she reflects on things like post-partum depression, sleep deprivation, gardening (oh my, gardening!!!), the liturgical year, life, death, joy, sorrow. She reflects on this life we live, all of us, but she does it in a way too few of us take the time to — and with a skill very few of us enjoy. 
I've pulled out some sloppy photos of a few favorite passages, but believe me when I tell you this — there are too many to count. 
On what following in the steps of the Magi might really be about:
On caring for the dying of things as well as the living of things:
On enjoying beauty — the beauty that is easy to spot and the beauty that we must earnestly seek, each and every day.
I am delighted to offer a brand new copy of this remarkable book. If you are interested in having your name dropped in the hat, please say so in the comments. I'll select a winner one week from today and post your name on the blog and on Facebook. I can't think of a better gift to offer you, my friends. Truly.