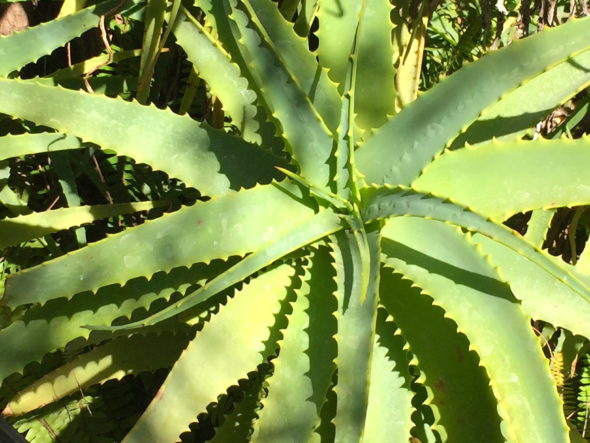 The second stop on our Poetry Walk (noted first on this day) was this fascinating plant. Our silent leader this round was a young woman, a college student who is a current member of Dr. Willis's senior Honor's Class. Each of our four stops took place in a very small space, maybe 30 feet from beginning to end. There is something to see with each step we take, you know, even if our world is small and circumscribed.
This sage-colored, pointy-leafed plant is a succulent of some kind, maybe a member of the aloe family? It's color is muted, like most succulents, and the play of light and dark across its surface brought these words:
sunshine and shade
    play peek-a-boo
with your prickly arms,
each one shorter
   than the one before,
all ridged by
      thorns,
saying,
      stay away!
please don't find me
Sometimes I have prickly arms, too. Do you? There are seasons when I don't particularly want others around me too much. This doesn't happen often, but when it does, I try to pay attention. I ask myself why I'm choosing isolation, trying to suss out where there is fear or anger inside. Those are two emotions that can rule us too often; sometimes we need to look at them, to let them breathe and dissipate. Then those thorns can rest, retract, retreat.
Wow — this paying attention business can get right up IN my business, it seems!