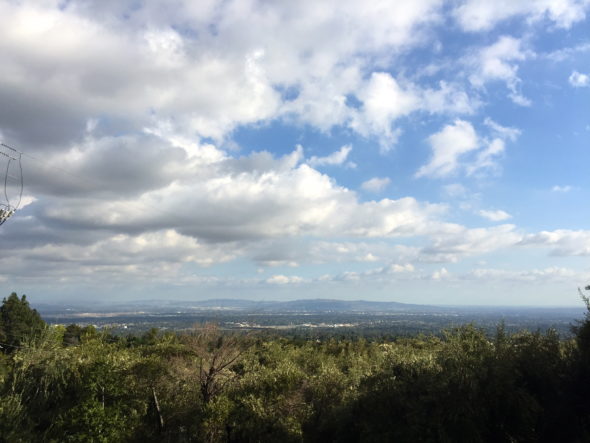 This was the view from that place of shadow and light I wrote about yesterday! A.Ma.Zing, right? The entire San Gabriel Valley was laid out below me, from the San Gabriel mountains all the way out to the foothills near Whittier and Covina. Stunning — there is no other word for it.
But. This view is not available to me while I'm walking the streets of Pasadena, where my husband and I spent 26 years of our lives. Nor is it available to my daughter and her family who live in Monrovia, just down the road a piece from my location that day. It's there. It's always there. But . . . unless you step out of your daily life for a bit and climb upwards, you truly have no clue.
Which is exactly why I am a big believer in retreats, especially retreats that take you somewhere with a unique vantage point . . . a view. What is about an expansive view that opens our souls?
Lots of things, I think.
We're reminded of our own smallness, which is always a good thing. In the day to day, we can easily become overwhelmed with the myriad details and commitments of our lives. Taking intentional time away for a few hours can bring relief from that narrow focus.
A wide angle view also causes us to breathe more deeply — both physically and emotionally. Climb a bit of a hill and then turn around and look at what's beneath you. I guarantee you will gasp, just a little bit. The wonder of it all forces your body to breathe differently for a second — and that is a very good thing. Learning to breathe with intentionality is a great prayer practice and often goes hand in hand with paying attention. If you live in a two-story house, just climbing the stairs and gazing out a window can sometimes do this very thing.
So . . . take a break. For 30 minutes or for a week! Lift yourself out of the dailyness for a small moment in time and see what you can see while you're there.
You might be astonished.