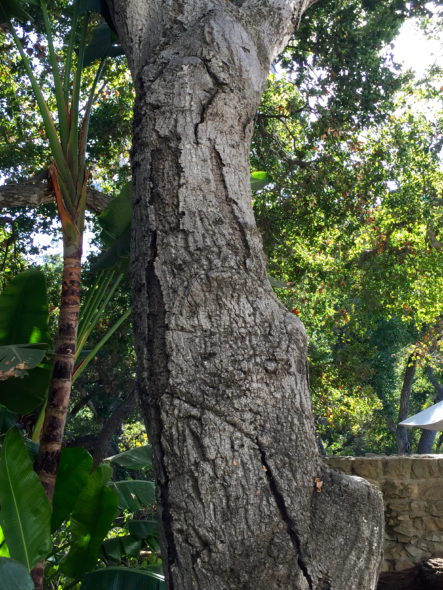 The last of our 'touring quartet' of would-be poets was a woman I've known for the last several years. She is a Catholic nun, currently residing with and caring for her aging father. She is feisty! Smart, efficient, well-organized, she was often the only female in the retreat center where she was the resident director for almost twenty years. That's how I knew her initially — she was the check-in person when I resided at that Mission retreat center for two weeks each of the two summers I was in training to become a spiritual director. Sister Susan was a no-nonsense, quick-to-smile, energizer bunny in that setting.
And then we were classmates at a writing seminar I went to earlier this year. I hadn't seen her in about five years and it was an absolute treat to get to know her in an entirely different context. So when I walked into that library at the Museum of Natural History last month, I was delighted that she would be in the same walking group I was.
This tree was her silent selection as we made our way from point to point on our metaphor-seeking journey. Look at it closely and tell me what YOU see there. This is what I saw:
Scars
long,
short,
open,
closed
each one a story,
a souvenir
of life,
well-lived
We all bear scars, don't we? Life isn't life without making marks on us, all kinds of marks. I'm working on seeing my particular scars as lovely things, reminders of a lot of living — some of it pleasant, some of it not so much, but all of it . . . GOOD.