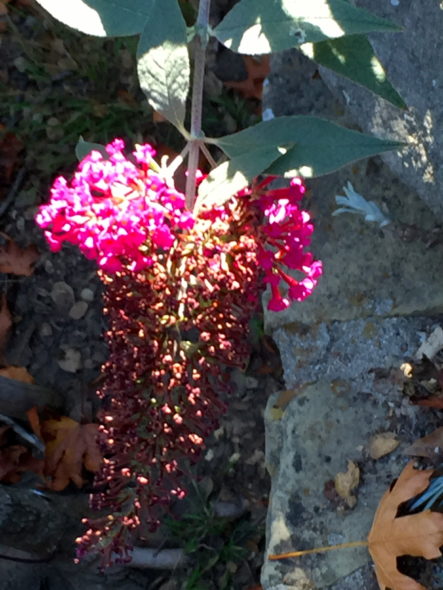 And then, it was my turn to point to something as we walked in the gardens of the Natural History Museum during that poetry workshop last month. I went immediately to this potted plant, which was drawing both humming birds and bees to its blooms. I was attracted to its vibrant color first of all — if you haven't figured this out already, I happen to love clear, bright colors. It sparkled in the sunlight of the late afternoon and I could see why the hummers and the bees found it appealing.
But as I stared at it for a minute, and waited for the words to come, the metaphor to take shape, I was struck by this particular bloom, which was more than half gone. So am I. That is both a hard truth to acknowledge and a lovely piece of truth. My journey is more than half done. 
But there are parts of this half-done plant that are still vibrant, colorful, and attractive to God's creatures. Yeah, that's what I want to be, please God. That's what I want to be:
magenta bracts
gray-green leaves
reaching every which way
blooming,
fading,
dying
all in place —
hanging on,
hanging on.