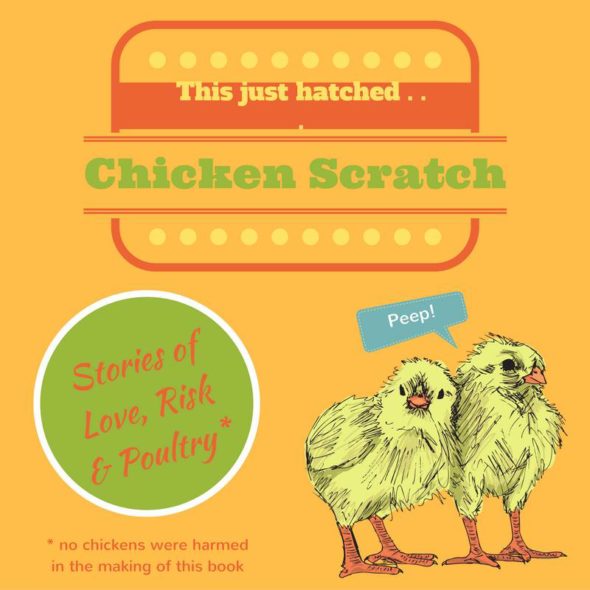 Kelly Chripczuk is one of the best writers on the internet. Period. She is thoughtful, lyrical, honest, funny, kind and tender. She and her husband and their four children moved to a 'dream home' in the last couple of years, an oldie-but-goodie that needs work and love. And in the process of making this place their own, Kelly bought some chickens. Yup. The real, live things that peck the ground, produce endless amounts of poop and, if you're really blessed, lay beautiful, edible, sellable eggs.
Now, having chickens in my backyard has never been a dream of mine — I have to be honest, here. My grandmother had them behind her Los Angeles bungalow and they scared me! They pecked everything in sight, including me, and sort of took over the entire backyard. So, I have not ever even considered the blessings that caring for such critters might bring. 
Until now.
Don't get me wrong — I will not be purchasing  feathered friends anytime soon. But . . . for the first time, ever, the idea is appealing to me. In the process of writing something in a much longer format (which I sincerely hope she will work on, edit, polish and produce-for-purchase), Kelly began to write down her reflections on life and family and chicken-raising — and the result is pure joy.
Only about 75 pages long, this little book is well worth the reasonable purchase price of $7.99 for a paperback and $1.99 for a Kindle version. You can find it here, at Amazon. It is a lovely piece of writing, laced with anecdote, reflection, and humor. As her youngest children (twin boys) get ready to begin kindergarten, Kelly opts to add to her chicken family, purchasing chicks from an ad on Craig's list, of all things.
What she discovers during her weeks of intentional written reflection is rich:
"After ten years of almost full-time mothering, my babies were leaving the nest. I wondered what I would do and, more importantly, who I would be in the face of  so much open time and space. I felt the urge to pursue a life of writing and spiritual direction rooted in my life at home, but I was afraid to pursue it. I was afraid to fail, and more deeply, I was afraid of losing a new sense of self that had emerged after years of wrestling with my roles as a writer, a mother and a minister of the gospel.

"I wanted chickens, but on some semi-conscious level what I really wanted was something to wed me more deeply to the life I already have. I wanted something to tie me to this place and to help me grow deep roots in the person I've become." (pg.6)
So, right there, you know why I love this writer — and this book. She is a seeker. She is a pastor. She is a mother. She is a spiritual director. She is a writer. So am I — all of the above. Although I am much further along the road of life than she is, and though we have never met in person, we are soul sisters. Like the fine preacher she is, Kelly draws wonderful analogies and truths about God while caring for her home, her children, her chickens. "A chicken's love for her chicks is fierce; a mother's love for her children is fierce; and God's love for us is fierce, too." (pg. 26)
She ends this little book with an announcement: they're buying more chickens! And she is pretty sure that adding to the group will be, "a mess, but that's what happens when you step out into life. Things get complicated, quickly, chaos blooms and yet, somehow, hidden somewhere right in the middle of the dirt and the poop and the brokenness are all the little treasures we covet most, like beauty, joy and love." (pg. 76)
Treat yourself to this sweet collection of wisdom and wonder. You won't be sorry.
I received an advance reader's copy of this book. In return, I have posted an honest review.