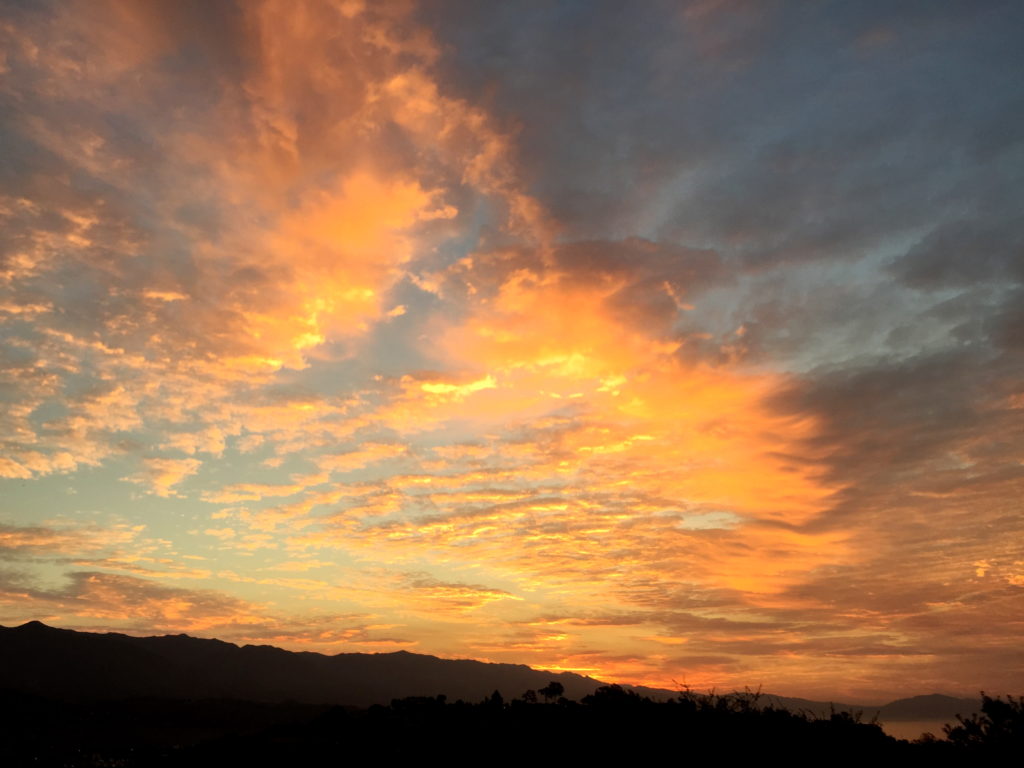 On this Resurrection Sunday morning, we are going to use a responsive chant from the earliest years of the church. The longer prayer from which this short phrase is taken is called the "Exsultet," and it was a call-and response prayer that was adapted from an even earlier synagogue prayer. Early Jesus-followers offered that adapted prayer every year as the re-lit Christ candle was carried back into the sanctuary in the early hours of Easter Sunday morning.
The small piece we will use together today consists of two short phrases:I will say the first one at several points as we pray together:"Christ our Light!And when I say that, you respond with the second half, which is: "Thanks be to God"
Let's pray together:
Good and Holy Triune God, we come before you on this glorious morning to say thank you! Thank you, first of all, for Who You are — Creator, Redeemer, Comforter, Friend — the God who chooses us, the God who sees us, the God who absorbs our broken, sinful selves into the body of your Son, our Savior. Thank you for that dark afternoon and thank you, too, for the brightness of this Easter morning!
Christ our Light! Thanks be to God!
A special word of thanks this day for the women, the women, who followed after you, who tended that wounded body as it was laid in the grave. The women, who were the first to see our Risen Lord. The women, who carried the great good news of RESURRECTION to all your friends, your students, your followers. Thank you for their faithfulness, thank you for their obedience. Thank you for choosing them to be the very first evangelists.
Christ our Light! Thanks be to God!
And thank you for all the others in the early church, for disciples who stayed true, for their openness to the Spirit, and their willingness to give everything they had, including their own lives, to the work of the kingdom.
Christ our Light! Thanks be to God!
As we gather in this beautiful space today, we want to thank you, too, for the early disciples in this place. Those who gathered, and dreamed and prayed and planned. Those who gave and built and longed to be your hands and feet in the community of Montecito. We have a rich heritage, Lord — an ancient one and a much more recent one — and we thank you for both.
Christ our Light! Thanks be to God!
You know this, Lord — even better than we do ourselves — you know that your church finds itself at a kind of crossroad right now — your church around the world, and your church in Santa Barbara. The terrible news from Sri Lanka this weekend, the loss of an iconic sanctuary to fire during Holy Week, and our own time of upheaval right here.
It's been a confusing time, filled with questions and misunderstandings. Forgive us, Lord, for the ways we have contributed to that confusion, to those misunderstandings. Guide us into true repentance, and guide us into a clearer understanding of who it is you are calling and forming us to be at this point in time. Give us, we humbly ask, extra measures of grace, forbearance, forgiveness and kindness as we pick up the pieces and follow after Jesus anew.
Christ our Light! Thanks be to God!
Thank you for our Council leadership and their willingness to work extra hours to help us find our way. Guide their search for a long-term Interim Pastor, and give us all grace to be encouragers as we travel together down a road we didn't expect to have to walk right now.
Christ our Light! Thanks be to God!
Thank you most of all for the meaning of this day, for the richness, the surprise — even the scandalous shock of our story: we gather here today to worship and then to serve a risen Savior, one who was hung on a tree to die a humiliating and difficult death, yet who conquered the grave and sits now at your right hand, interceding for US. Amazing! Astounding! 
Christ our Light! Thanks be to God!
Thank you, thank you, thank you! In the name of Jesus, our Risen, Living Lord. Amen.