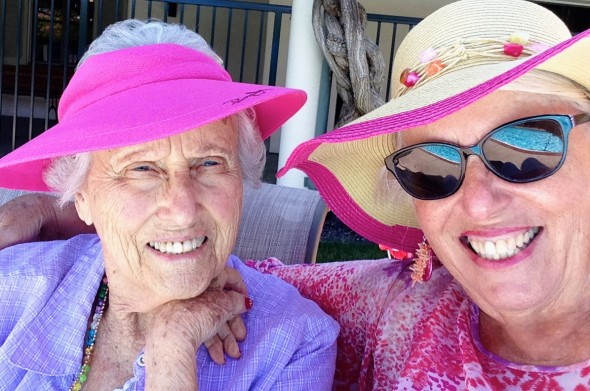 Wednesday is my day to take my Mom out to lunch.
She lives in a dementia unit nearby, a lovely place.
She loves her room, she thinks the food is great,
and she talks about moving almost every time we are together.
I get that, I do.
All my life, my mom has been a restless soul.
She loved to move the furniture around,
to create beautiful tableaus on tabletops,
counters, corners.
She dreamed of traveling,
and she did a fair amount of it, too,
and she often wondered if there was 
more she could be doing with her life.
There are days when my mother forgets she is old.
Why not? She forgets lots of other things, too.
And I think there are days when she just
rebels against the whole idea!
And I get that, too.
I'm not crazy about all the indignities
that come with an aging body.
Today, she forgot to put her 'teeth' in,
a bridge across the back of her mouth,
and a 'flipper' in the front.
Usually, you cannot tell that her
front teeth are fake,
and you can never see that bridge.
But today, there was no denying it —
there was a gaping hole where her teeth should have been.
And her blouse was gaping in a few places, too.
One of the drugs she takes — which has almost
eliminated some troubling auditory hallucinations —
very occasionally causes weight gain in a small number of patients.
And, of course! given our genetic heritage,
my mom is one of that number.
She looks beautiful always, but a few of her clothes —
especially blouses that button — just don't work as well
as they used to work.
And part of me found these small things
deeply troubling and sad,
further evidence of the ways in which
my mother, as I have known her,
is slowly disappearing.
But as I've thought about it and prayed about it
throughout this afternoon and evening,
I believe I've been given a gift today,
an answer to the pleading of my heart,
my begging prayer for a way to love my mother
exactly as she is right now,
a teary request to find a path through the sorrow.
So tonight, I look back on our time together,
and I see my mother in an almost ethereal light,
I remember a radiance that I cannot explain except to say
that Jesus lives in her —
the her she once was, and the her she is at this minute.
And that lunchroom where we sat?
 Holy ground.
It was cold and blustery today,
too cold to take mom outside her facility,
too cold to go up and sit by the pool, as we often do.
So we sat together at the familiar tables
of her dining room, quietly enjoying
a turkey sandwich, Waldorf salad, jello.
And I watched as my mother smiled her beautiful smile
at every single person she saw.
I listened as she said to the aide,
"How would I get through a day without you?"
I heard her tell me, after we returned to her room,
and I set up a few small Christmas decorations,
"Oh, how lovely! Thank you so much, Diana.
I love you so much, I'm so glad you came today."
By this time, we had found her teeth.
I had persuaded her to give me the blouse,
to store with her spring clothes,
which sit in a bin in my guest room.
She donned a new knit pullover shirt
in a beautiful magenta color. . . 
And there were no more gaps.
The truth is, there never had been.
Thanks be to God.
Joining this tonight with Ann, Jennifer, Jen, Emily and Heather: