I am blessed to be part of worshipping community that I love, where the music is varied, the preaching is solid, and the lay leadership is invited to participate. Each week, our community prayer time is led by a member of the congregation — old, young, male, female, erudite, humble — we get a rich variety. And each one is a blessing, an invitation to remember that we belong together, as different as we are. That we stand together, in the presence of a Holy God who chooses us, over and over and over again.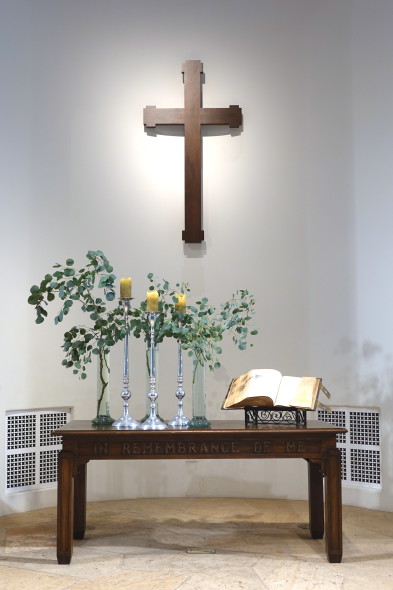 Our pray-er this morning was Dr. Richard Pointer, Professor of History at Westmont College and an all-around great guy — known to us all as Rick. He took the three scripture passages for the morning – Psalm 139:1-18, John 1:43-51, and Philippians 2:1-11, plus some words from a favorite old hymn, and wove them together into a beautiful tapestry of petition and praise. It is with his permission that I post it for you tonight. (May I humbly suggest that you pray it aloud? Speech that is written feels different when we hear it than it does when we read it, don't you think?)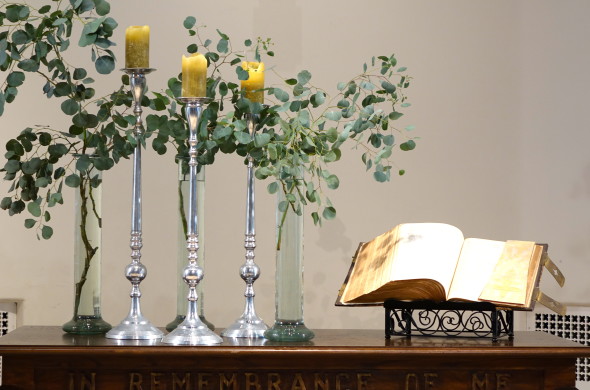 Lord God, the Psalmist tells us that you search us and know us.  You know all about us — that's very good news. You knew us from before we were conceived; you will know us to our final breath; you will know us for all eternity. You knew Nathanael enough to call him into discipleship.

Lord you are acquainted with all our ways and with all of our needs. You know I.J. in his need right now for healing from cancer surgery.

You know A. and A.B. in their need right now for a new measure of strength to face a third round of cancer.

You know dozens of hospice patients across Santa Barbara right now in their need for mercy and peace.

You know thousands of beautiful kids and teenagers in Uganda and Kenya right now in their youthful exuberance and promise but also in their poverty and need for hope.

You know the Christian believers in Niger whose churches have been burned in the last few days and their need for courage and perseverance.

You know every one of us gathered here for worship today better than we know ourselves.

Lord God, you search us and know us, and know all about us – that's very scary news. You know all our insecurities, all our anxieties, all our small jealousies and not-so-small prejudices.

We confess that we don't always want to be known. Lots of times we just want to run and hide from you and ourselves. But this Psalm reminds us that we cannot go anywhere where you are not with us. Your love and grace and forgiveness pursue us even when we don't want to be found – and then when we do, your love rescues us.

And then Lord, in this text from Philippians you audaciously ask us, command us to be like you – to have the mind of Christ. How is that possible when we are so broken – broken in spirit but even more broken by our sin?

Some of the time we think too little of ourselves; save us from forgetting that we are your beloved.

Much of the time we think too much of ourselves. We are swelled with foolish pride that we are better than others — better because of what we own, or where we live, or how we look, or what we've attained, or how much we know, or the color of our skin, or the national heritage of our family.

What could be more different from your example, Jesus, than us proud ones who have allowed our pride to make us so arrogant, so complacent, so silent, and even worse, who have created systems and structures of injustice that look to our interests and not the interests of others? Forgive us, Lord.

On this holiday weekend, may we be inspired anew by Dr. King and countless other believers who have cried out, "Let your justice roll down and let your glory and righteousness fill the earth as the waters cover the sea."

And then like them, let us go and actually do something to bring about more of your kingdom reign on earth.  Save us from our self-absorption, from our selfish ambitions, from our vain conceits – set us free from being captives to the trivialities of our lives, to the banalities of our culture, to the false idols of our age.

Instead, help us to put on your mind, the mind of Christ.

Re-shape our attitudes.
Purify our motives.
Teach us what to think.
Refine our beliefs.
Show us what to value.
Help us to know the truth.
Make us wise enough to obey.

Lord, we know we can't do any of this on our own. I can't do any of this on my own. So this morning I simply pray:

"May the mind of Christ, My Savior, live in me from day to day, by his love and power controlling, all I do and say."

Amen.

The morning light blazes through our east-facing Holy Spirit window, creating a beautiful reflection on the wall. Yes, it's distorted, wavy, not as crisp and sharp as the original. Yet, is still beautiful, in its own unique way. Every week when I see it, I am reminded that the Light shines through Jesus to us, and though our reflection is incomplete and inaccurate,
it is still lovely.

Do you know how lovely you look with Jesus shining through you?