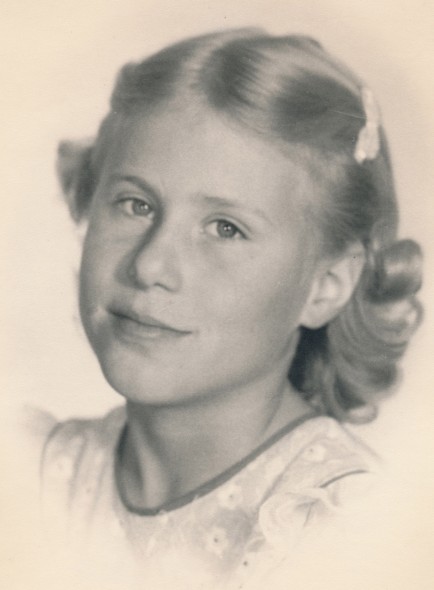 It was just a simple photo. A black and white shot of a young, blond girl staring back at the camera, honest, open, sweet, inquisitive. It was one of about sixty photos spread out on a table for our perusal and possible devotional use. I grabbed it, stuffed it in my bag and immediately took it back to my room at the retreat house.
There were eleven of us there, with not much of an agenda except to be quiet for a while, to follow where our hearts led and to sit with God. Sleep, walk, take photographs, try a little art, journal, read, pray, reflect, have a small conversation with one or two others. Just twenty-four hours — not nearly long enough, by the way — a gift from our denomination in exchange for being spiritual directors on-call for pastors/staff/spouses looking for partnership on the journey.
They were a gift, these hours away, in a beautiful place, with kind people. And I chose that photo of a young girl to take with me on my inward journey. She sat propped up on the desk in my room for a few hours, then on the bedside table. And she accidentally got put into my bag for the journey back home. I'll return her to her owner soon. 
But not just yet. 
I need to remember her and to notice the ways in which the girl in my borrowed photo reminds me in of the girl in the picture at the top of this post, the girl who happens to be me at age ten.
Sometimes the little girl inside gets shoved to the sidelines and when she's pushed over there, she can stir things up in ways that are important. She gets anxious, wondering if she'll be overlooked forever. So sometimes, I need to stop, look for her and listen.
How are you today, honey? Feeling cared for? I want to take good care of you, I really do. I don't want you to worry. And I don't want you to worry me, okay? 
Most of the time, all she needs is a fond look, a pat on the head, a few loving words. That's it. When she feels safe, she comes right back into the center of things and looks out my aging eyes with wonder and anticipation.
I need her, you see.
I need her to remind me that there will always be a part of me that is young, easily frightened and yet open to learn and be loved. She helps me to be young-at-heart, even when the bones and the joints, the muscles and the skin tone are showing their antiquity.
She is the wondering center of me, a key player in my own sense of self, a gift from long ago to today.
Joining with the lovely Kelly Chripczuk today for her wonderful series (just discovered by me) of short essays on small things each week. Thanks, Kelly.