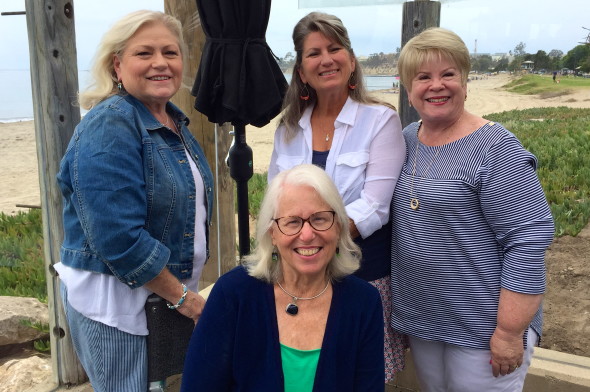 As I've gotten older, I've come to value long-time connection more and more. People who've walked the road with me for a long time, those are the ones I yearn to be with. I'm so grateful for newer friends, for later-in-life community — I am and I will continue to be.
But those people who've known me for a lifetime (or at least, a good chunk of a lifetime!) are the ones whose presence I seek out. My calendar has reservations for those folks. Maybe not a whole lotta reservations — but regular ones, that's for sure. Those three women up there are my maternal first cousins. We live within 90 minutes of each other and try to get together for lunch and catch-up about twice a year. They're remarkable people, each and every one. And we share so much story. It's not very many people who can see me after six months and say, "You're looking more like your dad every day, Diana." Who else would know that about me? (And they're right. I've always looked like my mom — but I see dad in there more and more as I age, especially in the hair color, body size/shape and, regrettably, that nose.)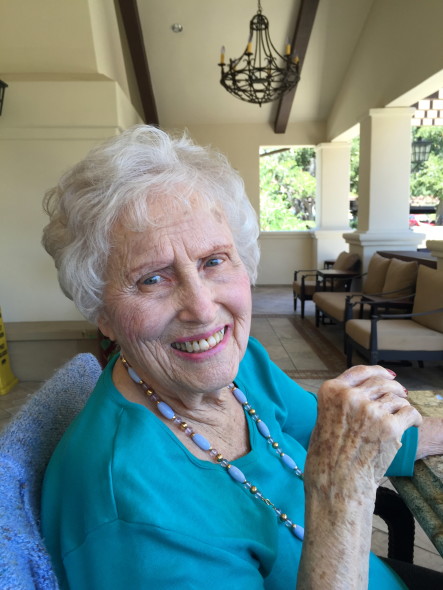 And, of course, there is my longest-term-best-friend, my mom. The parts of her that made for true friendship are not as evident as they once were, but that twinkle in her eye is a reminder, that smile is a heartstring to the past. She does not remember me, but oh! I remember her.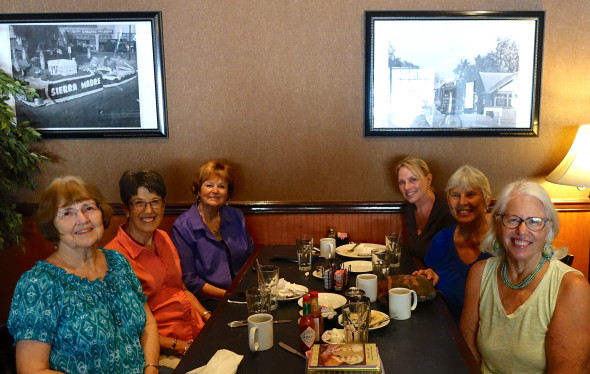 And then there is this glorious posse, this group of long-term friends from our days at Pasadena Covenant church (1975-1996). Many of them are in this photo, but a couple of them weren't able to make it to this gathering, just as I can't make it to the one tonight.
These friends knew me before I wore any of the hats I've worn in the past two decades. Before seminary study, before pastoral ministry, before spiritual direction. Before. 
And most of them knew my kids. At least they knew me as a mom to those kids, which NO ONE in Santa Barbara does. I was so surprised at what a loss that was to me when we moved here. My role as their mom has been my primary identity since 1968 — and nobody in this congregation had a clue about any of that. It makes a difference, friends. It truly does. People who've walked with you through the joys and pitfalls of parenting and marriage (even if they themselves are not married or a parent) — those are the people who know you best. And who love you anyhow.
You gotta keep those friendships going. They're lifeblood, even though IRL connections may be few and far between, they're always rich and memorable. I was also part of another friendship group for a few years, one that I miss to this day. Six of us who were ordained as pastors in the same denomination gathered together for retreat every year for about 6-8 years. And then it just sort of died away. I have limited contact with three of that group and seldom hear from the other two. I miss them all and wonder every year about how to try and reestablish our connection.
Do you have friends  you've known forever? Special interest friends? Shared life experience friends? What do you do to stay in touch?