Let me tell you about my friend, Lucille. Please. Let me tell you.
We met in 1975 when my family began attending Pasadena Covenant Church, where Lucille and her then husband Harold had been leading members for decades. She was the head honcho of the woman's organization in the church and she was GOOD at it! Gifted organizationally and an exceptional cook, she had vision and energy to spare. At this point, she was 58 and I was 30.
If you're any good at math, then you've figured out that she is now 98 years young. She has some trouble walking these days, but overall, she is still amazing. In fact, I would say, Lucille is a real pistol! In the very best way.
God put this good woman in my life at precisely the time I needed to be inspired and encouraged. She saw gifts in me and she patiently drew them out over the 21 years we worshipped and worked together in that community. She always saw the good in me. Always. And she told me about it, in ways both direct and indirect. She was, in many ways, a third mother to me — my own mom and mother-in-law being the first two. And I even looked a little bit like her daughter (and like her, too). 
Can I just tell you what a gift it is to hear from another adult whom you admire that you are a good and gifted person? It is life-changing, as a matter of fact, and I will be grateful to her and for her until the day I die.
She now lives in assisted living at the same retirement community where my mom is located. Because my mother's condition has been so demanding, I've had little time to visit with her of late, but I'm making an effort to change that. Why? Because I love her. And because I'm grateful for her. And because I don't know how much longer she'll be here for me to sit with and smile at.
When I went to see her new little apartment (her third in this place – she started in a HUGE one with her second husband . . . which is another beautiful story I will tell some day . . . and then downsized to a still lovely smaller one when he died. And just last year, moved into assisted living. Her same beautiful things are still there and that smaller space radiates her beauty and grace in every corner.
When I went to see her, she asked me to go get a box out of one of her closets and bring it to her. Inside were some lovely needlepoint zipper bags that she had made and she insisted that I take one. "My daughter is coming soon and she's bringing me new ones to do. I love to do it while I sit and look out the window or watch television."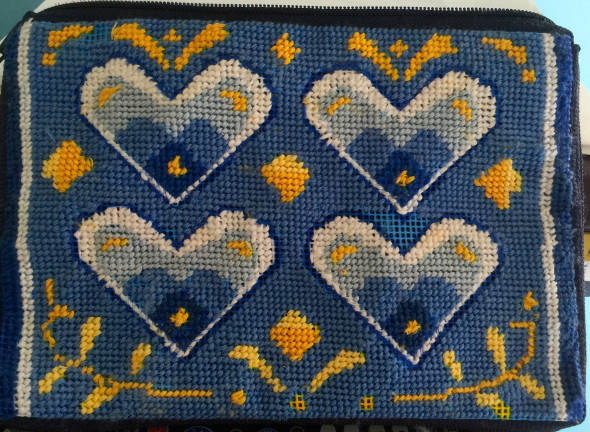 Her beautiful handiwork sits now on my bedside table, a glorious reminder of someone I love who took the time and made the effort to see and speak the good in me. Thank you, Lucille. And thank you, Jesus.
So, where are you looking for the good in others these days? And who has seen and named the good in you?