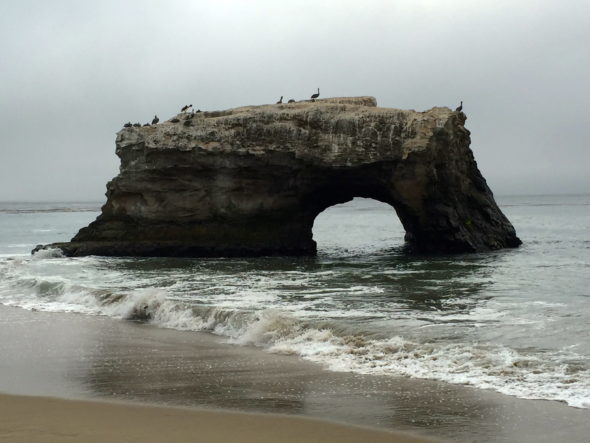 Do you see that lovely arch out there? It is the source of the name of the state park in which it is located – Natural Bridges. We drove out there from our retreat center fairly early in the morning of our first full day. Discovering that it would cost us ten bucks to drive onto the campground, we opted to go in the opposite direction, toward the parking lot right at the edge of the cliff that overlooks this rock. From that viewpoint, this is what we saw:
Do you see any sign of that lovely arch from this angle?
Nada. Zilch. Nope. 
Your point of view, your perspective, your position makes a huge difference in what you can actually see. I've had days, I've had seasons, I've had YEARS when parts of my life looked like a solid, dark wall. And then, a simple shift in my viewpoint, a slight difference in my perspective, a new angle of vision made all the difference in the world. 
At no point in time can we see every possibility that exists in a given situation. WE don't have the power, the ability, the intelligence, the vantage point to make such a thing possible. But . . . there is Someone who does. There is Someone who can. Sometimes the most important thing we can do is to wait. To trust that with the passage of time and the accumulation of more experience, the gathering of more facts, the readiness to engage in more of those ongoing conversations in life, we will begin to see an old, impossibly bleak problem with freshness and new insight. Maybe that blank wall has a lovely big hole in it! Maybe we can sail our small craft of a life right on through it and come out the other side with a deeper appreciation for the beauty of a brand new view.