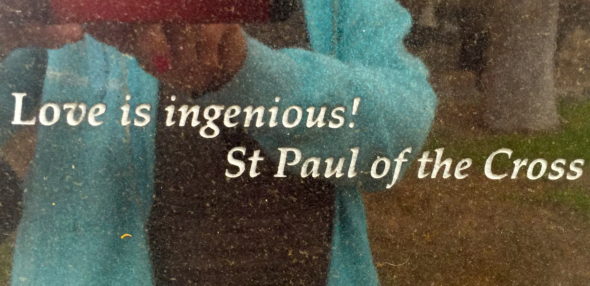 Yes!! Love IS ingenious! When we are living out of a place of love, creativity soars, diversity is welcome, old truths take on fresh new meanings. I love this small line of text, maybe because it is surprising. "Ingenious" is not an adjective often applied to the noun "love," but somehow it is perfect, don't you think?
Jesus was a person of surprises. Teaching the upside-down nature of the kingdom of God, touching lepers, welcoming children — even telling us to be like children if we truly wish to know God. He told stories, he did not pontificate. He was not afraid of truth-telling, but as Eugene Peterson so beautifully used Emily Dickenson's gorgeous line, "Tell the truth, but tell it slant. . . ," Jesus always told that truth sideways, upending expectations and astonishing listeners.
Do we astonish others regularly? Do we do so out of that centered place of living loved and living love? I do believe this is the only way forward out of any morass in which we might find ourselves.
Love-centered ingenuity! I love it!
And this surprising oasis-like fountain surround by palm trees at the base of the San Gabriel mountains is a picture of what it can look like. A beauty spot, right there atop a middle-class suburb, inviting one and all to stop a while, to pay attention, to savor the ingenious love of the creator, given expression by the willing hands and hearts of human artisans.