Because I chose to focus on Sunday's readings for yesterday's essay at SheLoves, the readings for Saturday will be listed here. Don't want you to miss any of them!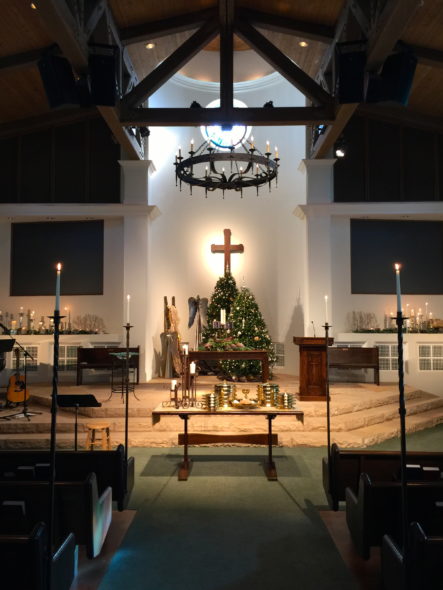 Psalm 146:5-10
1 Samuel 2:1-8
Luke 3:1-18
Luke 3:1-18

In the fifteenth year of the reign of Emperor Tiberius, when Pontius Pilate was governor of Judea, and Herod was ruler of Galilee, and his brother Philip ruler of the region of Ituraea and Trachonitis, and Lysanias ruler of Abilene, during the high priesthood of Annas and Caiaphas, the word of God came to John son of Zechariah in the wilderness. He went into all the region around the Jordan, proclaiming a baptism of repentance for the forgiveness of sins, as it is written in the book of the words of the prophet Isaiah,

"The voice of one crying out in the wilderness:
'Prepare the way of the Lord,
make his paths straight.
Every valley shall be filled,
and every mountain and hill shall be made low,
and the crooked shall be made straight,
and the rough ways made smooth;
and all flesh shall see the salvation of God.'"

John said to the crowds that came out to be baptized by him, "You brood of vipers! Who warned you to flee from the wrath to come? Bear fruits worthy of repentance. Do not begin to say to yourselves, 'We have Abraham as our ancestor'; for I tell you, God is able from these stones to raise up children to Abraham. Even now the ax is lying at the root of the trees; every tree therefore that does not bear good fruit is cut down and thrown into the fire."

And the crowds asked him, "What then should we do?" In reply he said to them, "Whoever has two coats must share with anyone who has none; and whoever has food must do likewise." Even tax collectors came to be baptized, and they asked him, "Teacher, what should we do?" He said to them, "Collect no more than the amount prescribed for you." Soldiers also asked him, "And we, what should we do?" He said to them, "Do not extort money from anyone by threats or false accusation, and be satisfied with your wages."

As the people were filled with expectation, and all were questioning in their hearts concerning John, whether he might be the Messiah, John answered all of them by saying, "I baptize you with water; but one who is more powerful than I is coming; I am not worthy to untie the thong of his sandals. He will baptize you with the Holy Spirit and fire. His winnowing fork is in his hand, to clear his threshing floor and to gather the wheat into his granary; but the chaff he will burn with unquenchable fire."

So, with many other exhortations, he proclaimed the good news to the people.
Again, with the Baptizer!
But this time, I'm getting a deeper glimpse into why he was so appealing to the people who followed after him in droves. Read what he says very carefully and to whom he says it. Now think about that for a minute.
Here is a very odd man, wandering in from the desert, clothed fur, skinny as a rail, speaking words that are alternately harsh and life-giving. And all kinds of people are attracted to him, including tax-collectors and Roman soldiers. I don't think I've ever noticed that before, have you?
And he gives every group a very specific response. And every response consists of a proposed action, doesn't it? To the tax collectors, he says, "Be just! Collect only what is required." To the soldiers, he says, "Do not practice extortion or intimidation, do not charge innocent people with wrongdoing, be content with what you've got already." To everyone, he says, "Share whatever you've got with those who don't have as much."
Sounds a whole lot like social justice to me, doesn't it? Do what is right, look out for the less fortunate, be generous. I wonder why I've never seen all of that before. Generally, I remember the image of that 'winnowing fork' above all else. And of course, the never-ending cry to 'REPENT!'
But here's the real deal about John — he knows that that verb means. It means to turn around, to change direction. And that is exactly what his advice boils down to. Let your life show the change inside you — turn and face into what is right and good and just and kind.
Sounds a whole lot more like Jesus than I ever realized.
Cool!