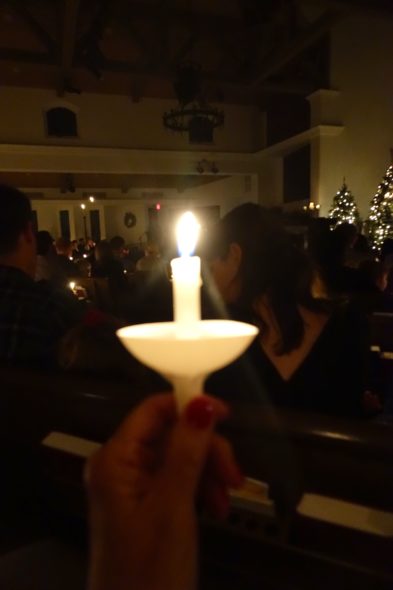 Isaiah 9:2-6
Psalm 96
Titus 2:11-14
Luke 2:1-14 (15-20)
Isaiah 9:2-6

The people who walked in darkness
    have seen a great light;
those who lived in a land of deep darkness—
    on them light has shined.
You have multiplied the nation,
    you have increased its joy;
they rejoice before you
    as with joy at the harvest,
    as people exult when dividing plunder.
For the yoke of their burden,
    and the bar across their shoulders,
    the rod of their oppressor,
    you have broken as on the day of Midian.
For all the boots of the tramping warriors
    and all the garments rolled in blood
    shall be burned as fuel for the fire.
For a child has been born for us,
    a son given to us;
authority rests upon his shoulders;
    and he is named
Wonderful Counselor, Mighty God,
    Everlasting Father, Prince of Peace.
Tonight, we will go to church. We will pick up an unlit candle at the door and sit in the semi-darkness. We will sing carols and we will hear the story. We will pray and we will laugh gently at the funny details with which we are so very familiar. And then we will spread the light, the LIGHT that came into the world in a brand-new way when that tiny baby wailed into the night and the angels sang to a bunch of wild and wooly shepherds out there on the hillside.
The pastor will light his candle from the Christ candle and then it will spread all across the room, going from person to person to person. We will sing "Silent Night," and we will lift those little candles high on the last verse. That one who is called, "Wonderful Counselor, Mighty God, Everlasting Father, Prince of Peace" — that One is worthy of our song. 
Hopefully, somewhere in there we will remember to pray for those who are far from home this night, those who have been forcibly ejected from home, those who suffer disease and heartbreak, those who long to sing and cannot. Hopefully after we've blown out our small candles, we will still feel their warmth, we will still carry their light with us as we go home to our comforts and our traditions.
After all, the story is about a baby on the run, under the thumb of a foreign oppressor, and soon to become a refugee. May the beauty of this night spur us to acts of love and compassion in the name of the Light whom we worship.