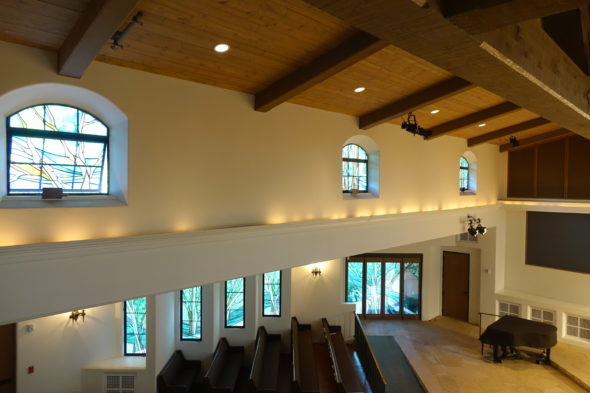 Ephesians 2:11-22

So then, remember that at one time you Gentiles by birth, called "the uncircumcision" by those who are called "the circumcision"—a physical circumcision made in the flesh by human hands— remember that you were at that time without Christ, being aliens from the commonwealth of Israel, and strangers to the covenants of promise, having no hope and without God in the world. But now in Christ Jesus you who once were far off have been brought near by the blood of Christ. For he is our peace; in his flesh he has made both groups into one and has broken down the dividing wall, that is, the hostility between us. He has abolished the law with its commandments and ordinances, that he might create in himself one new humanity in place of the two, thus making peace, and might reconcile both groups to God in one body through the cross, thus putting to death that hostility through it. So he came and proclaimed peace to you who were far off and peace to those who were near; for through him both of us have access in one Spirit to the Father. So then you are no longer strangers and aliens, but you are citizens with the saints and also members of the household of God, built upon the foundation of the apostles and prophets, with Christ Jesus himself as the cornerstone. In him the whole structure is joined together and grows into a holy temple in the Lord; in whom you also are built together spiritually into a dwelling place for God.
I will tell you what: I love this passage in Ephesians almost as much as I loved the one yesterday in Colossians. That Paul could turn a phrase — and sometimes, just keep on turning and turning until the reader is left to wonder how to untangle all those turns!
Not this one, though — it's crystal clear, seems to me. If you substitute "all those who disagree with me on fine points of doctrine" for the whole idea of circumcision/uncircumcision, it becomes uncomfortably clear, doesn't it?
All of us who were far off have been brought near; all of us who were strangers have been made into family; all of us who were without a home have been built into a brand new one, whose foundation is none other than Jesus Christ himself. And he is our peace.
Now, if only we really believed that. If only we really lived that. If only. Far too often, we (read "I") tend to think of the 'household of God' as the shell, the building itself, the beautiful space in which we gather to worship and for which we mortgaged ourselves to the hilt at some point in our history. But in reality, that household looks like the bottom picture, not the top one. The bottom one.
All those folks that you love — and the ones you don't so much. All those folks who agree with you right down the line — and all the ones who most decidedly do not. All the ones who look just like you and your family and all the ones who don't at all. All the ones who love the same kind of music and all the ones who like to mix it up more than you might be comfortable with.
All of us. Got that?
Really, Lord? That whole motley crew up there? Actually — yes. All those and then a whole heckuva lot more, right? O Dear God, help me to keep my heart open, my arms open, my doors open, my table open. Help me to be at peace with all those who love you. And help them to be at peace with me. Amen.