Our theme for this month is "Dangerous Women" and I decided to write something quite personal, known only to our particular family story. Maybe you've got a few of such 'dangerous women' in your own family tree? You can read the rest of this piece by clicking here.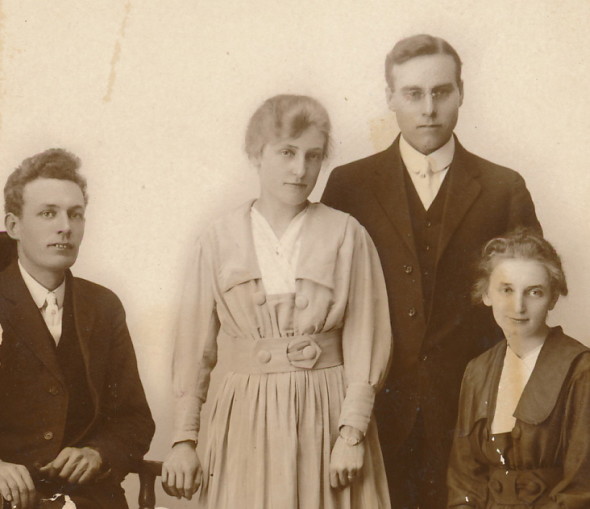 Elsie and Harry's wedding day, circa 1905, two of her cousins as attendants
She didn't quite make it to five feet tall. Born in the wilds of Alberta Canada at the end of the 19th century, Elsie lost her mother when she was just ten years old and her baby sister was three. Her dad worked for the Canadian Pacific Railway and was often gone for long stretches of time, and for the first few months after her mom's death, Elsie ran their home.
Until she started buying more sweets at the grocer's than nutritious food!
After that, she and her sister lived with their aunt in Vancouver, regularly attending the Salvation Army church with their three cousins. By her mid-teens, Elsie was a soprano soloist with the Army, singing on street corners, regularly attracting a small crowd. She attended a secretarial school during those years and worked in an office for a while, but then felt the tug to head to Winnipeg to go into training to become an Officer for the church.
And then — a mysterious and handsome older man heard her sing one afternoon. He was immediately smitten, and so was she. Elsie had just enough of the rebel in her spirit to choose a man 12 years older, divorced and a former gold miner in the Yukon. Very quickly, they were married and the idea of Winnipeg and officer training faded into the distance.
The couple moved to Vancouver Island, living in the town of Duncan, and Elsie's Harry found a job in a lumber mill nearby. They very quickly had three children and Elsie was pregnant with the fourth when they decided to move to California. That move included Elsie's sister and their three cousins plus a few friends. They piled everyone onto the train and off they went, into a future that was far from assured and fraught with economic insecurity.
They raised their four children in several different neighborhoods in the greater Los Angeles area, Elsie working full time for most of those years. Her family believes she needed a break from childcare — and all those unmarried women in the family were more than happy to provide help. Elsie Hobson was an early subscriber to the feminist ideal of equal pay for equal work!
Although she left the Army behind in Canada, her faith was still important to her. Her husband did not share that faith, but agreed that their children could attend church and decide for themselves. So each week, they'd drop the kids off at Sunday school and come back to get them later in the day. . . 
Please come on over and join the conversation. Tell us about a dangerous woman you have known – just click right here.