I am happily joining the synchroblog launching Addie Zierman's wonderful new book,
"When We Were on Fire: A Memoir of Consuming Faith, Tangled Love, and Starting Over." And so help me, I will, somehow, make this review fit the 31 Day theme I've selected.
(And I will probably do this same theme twice more, once on each of the last two Tuesdays of October, because I have had such a feast of reading the past few months. A veritable feast, I tell you!)
This particular idea has never been a problem for me – in fact, I have perhaps given myself TOO MUCH permission to read, read, read over the years (if such a thing is possible). But maybe you need someone to give YOU that permission – if so, please count yourself duly permitted. Because reading is one of the best ways I know to a.) widen your knowledge of the world and how it works; b.) broaden your vocabulary and your ability to dream artistic dreams; c.) take you to another world for a few minutes; d.) remind you that we are all part of something much larger, more wonderful, and more terrible than we know. So, welcome to the 1st of 3 reminders to give yourself permission to . . . READ, READ, READ.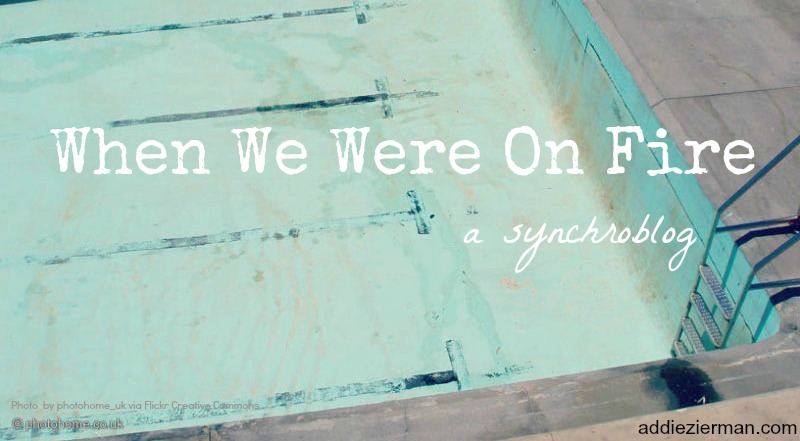 I was a senior in high school,
and on my way to an early morning Bible study,
when I crashed my mother's car and broke my tooth.
I was late to pick up my friend,
I drove my mom's stick-shift-on-the-steering-wheel,
1950's vintage Plymouth, which was always sluggish
at 6:30 in the morning,
I lived on a steep hill, which required me to make a turn to the left
as I crested the top of it,
and my books slid across the seat as I turned.
Naturally, I leaned over to rescue them,
and the next thing I knew, I had crashed into a parked car,
which crashed into a 50-year-old oak tree,
leaving the radiator steaming and my mouth bleeding.
And my initial, knee-jerk response?
Mortification that I was going to miss that Bible study. 
I am not a morning person.
I know it now and I knew it then.
But every week, I went to that Bible study anyhow,
because, I mean  . . . how could I not?
I was a Christian, for heaven's sake.
And I was on fire.
I was a geek, too. Hard to reconcile 'on fire' with 'geek'
but I pretty much rocked it.
And just about everyone in my class of about 500 knew
that I was an on-fire, geeky Christian, too.
I was taught to talk about it, to define it clearly, for myself and for others,
to not be ashamed.
I was also taught, both explicitly and implicitly, that my primary goal in life,
as a good, Christian girl,
was to meet a fine Christian man,
get married, have babies,
and volunteer with women's ministries.
And we all know how that turned out.
Why is it, I wonder, that the church, and so many of its subsidiary organizations,
get and give such a garbled message?
We too often complicate the beautiful simplicity of the gospel of grace,
add on layers of dogma that were never part of the design,
and insist that others see the same rigid, box-like faith that we see.
There's a lot of un-learning that needs to happen for many, if not most of us,
who were raised within the confines of an overly conservative,
mistakenly zealous version of the gospel of Jesus Christ.
Addie Zierman has been a lyrical voice for that re-learning
for a couple of years now.
Her blog, "How to Talk Evangelical" has been on my top 10 list
for about as long as she's been writing on it.
And her book is, in many ways, an extension of what you find
in that lovely space.
It is also more.
This is a memoir, a spiritual memoir.
But it is also a story of love gone wrong,
a sad tale of how "Christian" relationships can sometimes slip into abuse,
and how hard it is to recover from the garbage theology
we too often absorb in our 'on fire' years.
Slipping between 2nd and 3rd person narrative,
Addie tells a beautiful but painful story.
She writes movingly of adolescent earnestness,
life-long friendships,
moving into a healthy relationship,
then fighting to save it as depression
and churchianity take their inevitable toll.
She speaks honestly about using alcohol to numb the pain,
about stepping into therapy and finding Jesus there,
about her frustrating search to be at home in community.
Addie's story is not my story,
but there are pieces of it that I know.
Something about my own family system made me wary
of catch-phrases, excessive cheeriness and simplistic recipes for anything.
Also, I did not have a boyfriend in high school,
a fact for which I give heartfelt thanks after reading about the boy
who manipulated and tried to control Addie during those tender years. 
But I do know all about trying to please.
I do know all about wanting to be the good girl.
I do know all about following the rules,
giving a testimony,
playing the role,
being on fire.
And I now know that there was much good intermingled
with the less-than; there was joy mixed in with the angst;
there was redemption, there was hope, there was. . .
and there is. . . JESUS.
And so does Addie.
I highly recommend this book to all who are struggling
through re-learning what they believe.
I highly recommend this book to all who have
done most of that re-learning for themselves,
but want to know what it feels like to
those who are younger.
I highly recommend this book to anyone who loves
lyrical, thoughtful, honest writing.
And I am honored to be part of this synchroblog
and to have received an Advance Reader's Copy from Addie
and her publisher, Convergent.