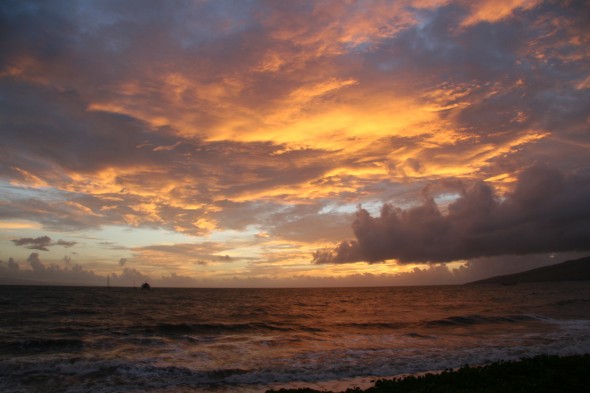 Then the angel said to me, "Everything you have heard and seen is trustworthy and true. The Lord God, who inspires his prophets,has sent his angel to tell his servants what will happen soon."

"Look, I am coming soon! Blessed are those who obey the words of prophecy written in this book."

And I solemnly declare to everyone who hears the words of prophecy written in this book: If anyone adds anything to what is written here, God will add to that person the plagues described in this book. And if anyone removes any of the words from this book of prophecy, God will remove that person's share in the tree of life and in the holy city that are described in this book.

He who is the faithful witness to all these things says, "Yes, I am coming soon!"

Amen! Come, Lord Jesus!

Revelation 22:6-7, 18-20-NLT
When I imagine that day, it looks a whole lot like this sunset shot taken on Maui in 2011. It had been a quiet day, a little stormier than usual, and we hadn't done much. We read, we watched a little TV, enjoyed some fresh fruit for lunch.
And then, about 4:45, I began to notice that the sky was looking interesting. So I grabbed my camera and strolled out onto the lawn in front of our rented condo. People began drifting out from all over the development, talking quietly together, and then — just standing there, looking.
The sky went from glory to glory. Literally. It was so beautiful, my throat ached and my heart broke a little. Over the course of the next hour, I leaned against a palm tree for support and I shot picture after picture of this stunning vista.
And I whispered, "Come, Lord Jesus! Come."
And Lord, haste the day when my faith shall be sight
The clouds be rolled back as a scroll
The trump shall resound, and the Lord shall descend
Even so, it is well with my soul.