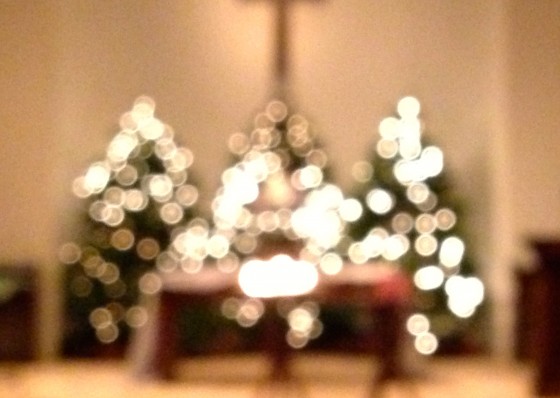 Have you ever noticed how many of our favorite carols are written in a minor key? Think about it for a minute . . .
"O Come, O Come, Emmanuel"
"In the Bleak Midwinter"
"Let All Mortal Flesh Keep Silent"
"What Child Is This?"
"Greensleeves"
"I Wonder as I Wander"
"Carol of the Bells"
"Lo, How a Rose E'er Blooming"
"Coventry Carol" ("Lullay, Thou Little Tiny Child")
These are melodically darker-hued songs, offered in a season when we are encouraged on every side to be merry, dang it! And I am more grateful than I can say for the rich texture they bring to these days before Christmas.
Why?
Because there are many pieces of this story that can only be told in a minor key.
Sometimes I think we forget that Jesus came into a broken world, that there were no colored lights, and certainly no tinsel around that hayloft. Yes, yes — the gift of the incarnation is unspeakably good, that babe whose head was cradled by his open-hearted, willing young mother, that babe brought light and hope to us all.
But in and around the lowing of cattle, the bleating of lambs, the exhausted moans of a brand-new mom and the healthy lungs of a newborn — who can forget the cries of the mothers in Ramah, the rumbling threat of Herod, the hurried flight to Egypt, or the sorrowful truth about where that sweet baby hung his beautiful head at the end of his good, good life?
The reality of life on planet earth is that even good news, the best possible news, must be told in the midst of the bad; to get to the light, we have to walk through the dark. To truly live our story, we have to tell all the pieces of it.
So I think it's important that the sounds of sadness, the echoes of loss, the edges of fear and uncertainty, are carefully and intentionally woven into our celebrations. All the voices in this Story, and in our own stories, cry out to be heard as we move toward the manger and the major key of Christmas Day.
I know that I have lived longer than most of you who are reading this piece. And over the course of this long life, I have experienced loss upon loss, asked question upon question, and listened for the answers in the midst of silence. If there is one thing I've learned, one truth that stands at the top of all the truths I know, it is this one: everyone carries a story of brokenness. Everyone.
Please join me over at A Deeper Family today to read more about singing in a minor key in this 'hap-happiest season of all . . . "