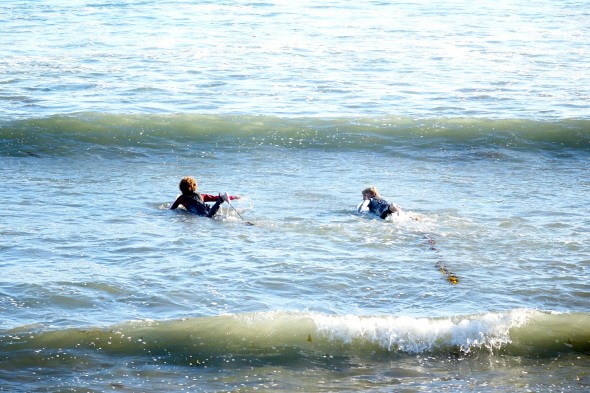 This week, we're moving out beyond the first set of breakers in this adventure we're taking, out into the deep waters of our faith. I'm grateful for your companionship along the way, and look forward to your response to this week's question: "What's with this 'more of Jesus, less of me' stuff?"
The story I tell this week is a deeply personal one, and very likely not many (if any) of you will be familiar with some of the emotional and psychological backwater I've had to push my way through, by the grace of God, to learn a different way of understanding that phrase. But I think what I've learned is important for all of us, at the very least because this story might help us all to be more careful and thoughtful with our choice of words, especially when we're teaching those who are young — in age, or in the faith. I look forward to your responses.
Next week's question set, for Friday, January 31: What's with all this talk about 'sin?'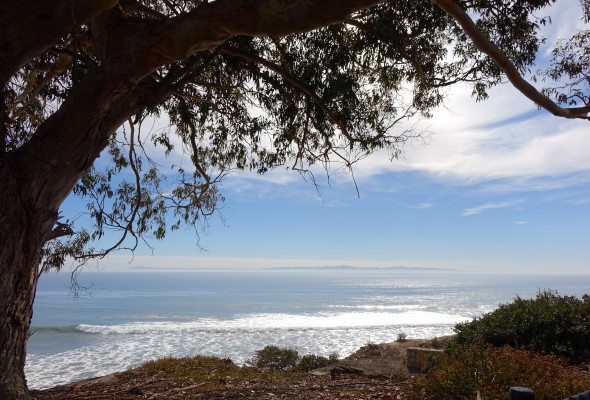 When I was a little girl, faithfully attending Sunday school each week, we had a little saying that went like this: "Jesus, Others and You – that's how you spell JOY."
And I inhaled that sentiment like it was the sweetest of perfumes. YES! We should always be last on the list, giving ourselves away to Jesus and to other people. That's how you live like Jesus, right? That's how you are a good girl, a truly good girl.
As I got older, that simple phrase became a little more complicated, and the scent of it a little more cloying. This time, it went something like this: "He must increase, I must decrease," lifting the words directly out of the mouth of John the Baptist near the end of chapter 3 in John's gospel.
From there, it morphed into, "More of Jesus, less of me," and the older I got, the more terrified I became when I heard those words.
I didn't recognize it as terror initially. In fact, I didn't know how deeply this message had affected me until I began to be interested in spiritual direction. I first learned about direction by reading a series of novels, of all things. In the late 80's and early 90's, British author Susan Howatch wrote a great bunch of stories about priests in the Anglican church and I devoured those books when I was in my 40's. They were earthy, to be sure, but they were also rich and filled with beautiful tidbits of theology and ecclesiology. Throughout the entire series, some of my favorite characters were spiritual directors.
So I began to read some rich and informative non-fiction books about direction, and to ask likeminded friends about it. One of those friends was a woman of spiritual depth and breadth with whom I co-taught several Sunday school classes for adults. She was also a psychologist and a spiritual director. In the mid-1990's, I met with her to explore whether or not we might enter into a director/directee relationship. At our first session, she handed me a copy of Foucald's "Prayer of Abandonment" and told me to take it home and reflect on it. Here is that prayer:
Father,
I abandon myself into your hands; do with me what you will.
Whatever you may do, I thank you:
I am ready for all, I accept all.
Let only your will be done in me, and in all your creatures.
I wish no more than this, O Lord. 

Into your hands I commend my soul;
I offer it to you
with all the love of my heart,
for I love you, Lord,
and so need to give myself,
to surrender myself into your hands,
without reserve,
and with boundless confidence,
for you are my Father. 
     — Charles de Foucald
It's beautiful, isn't it? Filled with love, joyful submission, and trust.
But I could not pray that prayer.
I tried, but I'd get to the word 'abandon,' and start gulping great gasps of air. I prayed about it, I talked it over with the woman who had given it to me, and her immediate response to me was this: "Diana, you need therapy. Not direction." (Did I mention I was in seminary at the time and beginning to hear God's call to professional ministry? What??? Pastors might need therapy? Well, that's a great big YES.)
I have spent the last twenty years trying to unpack what happened inside me as I read that prayer and, in the process, I have taken a long look at that old Sunday school saying and the use (or mis-use) of that verse from John 3. And I've done a TON of personal work on all kinds of important things. . . all because I gagged on the word, "abandon."
We all have a fear of abandonment. Along with the fear of falling, it's one of the most primal fears human persons carry. But what I was feeling was not quite that, was it? This is what I finally realized: I was terrified of disappearing. I had somehow inhaled some really lousy theology along with that early Sunday school ditty; I had taken the words of John the Baptist completely out of context* and come to believe that the way to the heart of the gospel was for me to somehow be sublimated to the point of extinction, for Jesus alone to inhabit this flesh.
There are all kinds of interesting reasons why this particular woman came up with these particular fears and most of them, I understand a whole lot better now than I did then. But what I want to talk about here is the sometimes dangerous way we throw words around when we teach and when we preach.
Because this is the beautiful truth of the gospel, the powerful, life-changing, miraculous truth:
As we learn more about the heart of Jesus, as we open ourselves to the transforming work of the Holy Spirit, this happens:

"More of Jesus, MORE of me."
Yes, you read that right. Think about it for a minute or two: why would God go to all the trouble of creating the wildly different and wholly beautiful human race if the goal was for each one of us to disappear, to lose our distinctiveness, to be pushed into the waters of oblivion that some have chosen to call "Jesus?" 
Is that wave supposed to cover us completely?
In some ways, YES, YES, YES. We are covered by the grace of God made tangible in the blood of Jesus. We are; yes, we are.
BUT also, NO. We are not lost when we are covered by the grace of God. We are not ever lost. No.
WE ARE FOUND. 
The true me, the real me, the best me, the apple-of-God's-eye me, the very particular, very unique, highly individual me is given space. Room to breathe and grow and flourish. The heart of the mystery, the wonder is this: the more we allow Jesus to fill us with love, to inhabit us, the more 'me' we discover. The me that God had in mind when he created the world, the me that reflects the image of God, the me that Jesus sees when he moves in for good.
And I do mean for good. 
Because Jesus is the one who calls forth from us health, wholeness, obedience — in the best sense of that word — and life. And in the growing and refining process that we use such big, ole theological words to describe (like sanctification, even justification. . . ohh, they make me shudder a little!) what emerges, over time, through all the good stuff that happens and all the hard stuff that happens — what emerges is the truest 'me' possible this side of heaven.
There is another entire blog post (or maybe a chapter??) to be written about all the possible pieces of this truth. Things like good self-care, healthy boundaries, learning what it means to love ourselves so that we can more fully and healthily love others. But for today, I want to give witness to the truth that the beautiful prayer listed above, the one that started me down the road of serious self-reflection and earnest biblical study, is now one of my favorites.
Because today I know that God has no desire to devour me, to make me some kind of freakish 'walking dead' person. No. Jesus came to this earth to show us what a truly human life looks like. And he wants us to discover what OUR truly human life looks like.
It's true, we will look a lot like Jesus.
But we will also look like ourselves. 
*John is replying to questions from his followers who have become jealous of all the attention Jesus is getting. John recognizes that his own work is done, that Jesus is now at center stage. In that context only, he says, "He must increase and I must decrease." Like so many other catch phrases grasped from scripture, this one cannot be directly applied to each of us, at least not in the way in which it too often has been. When we come to Jesus and ask him to live in us, we are joined to this Elder Brother of ours as partners — not equal partners, but partners nonetheless. This is the way God designed it — God works through the likes of us. Amazing. It is my heartfelt prayer that I will more and more closely resemble this Brother of mine. But it is also my prayer that I will more fully inhabit myself, the one Jesus came for. The one Jesus died for. The one Jesus prays for at the right hand of the Father.
As always, I invite your comments here. If you have a blog, and feel inspired/moved/challenged to write a response to this post or to the question itself, please do link it here. So here's the linky – and be sure to grab one of my buttons from the sidebar for your own blog post. Thank you!
Next week's question, for Friday, January 31: What's with all this talk about 'sin?'