When I began regular blogging a little over three years ago, I discovered so much rich content out here in cyberspace. A favorite place to read good content quickly became The High Calling, an online magazine with a long list of contributing editors and writers, all of them writing about living an integrated life — a life of integrity — at home, at work, at leisure, in our culture. Then I went to a writing retreat they offered in September of 2011 and another one in 2012 and discovered that these people are for real, that they're funny and smart and loving and sincere. So whenever I receive an invitation to write for them, I am honored and grateful. Today, I am writing the third in a series of four reflections (Laura Boggess, Jeanne Damoff and Seth Haines being the other three contributors) on the book, The Geography of Memory: a Pilgrimage through Alzheimer's, by poet and essayist, Jeanne Murray Walker. Here is an excerpt and a link: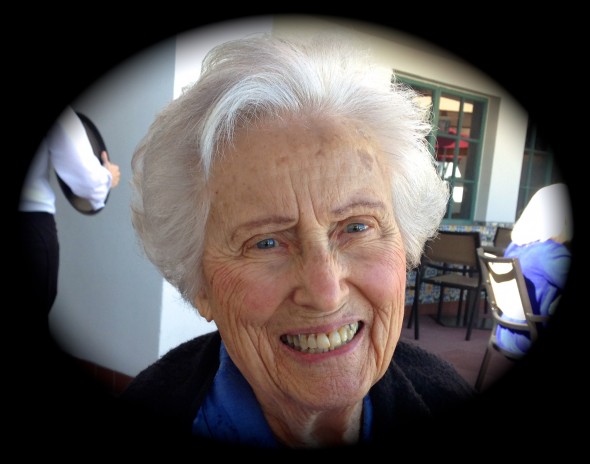 She is old now, and increasingly frail. Her hair is a beautiful shade of white and though her blue eyes are clouded a bit by near-blindness, they sparkle as much as they ever have. And her smile?
It lights up a room.
On a good day, I see that smile a lot. I see it when she stops to greet everyone she passes—people whose names she does not know or cannot remember, people who are suffering from the same kinds of confusion and cognitive loss that she is, people who live and work in her assisted living unit: guests, cleaning ladies, visiting musicians … Everybody gets a glimpse of that magical smile. And everyone who is on the receiving end moves away from that encounter flashing a great, big smile of their own. My mother is the most naturally extroverted, hospitable person I have ever known; even into her 90s, doing daily battle with dementia, those parts of her still shine into my life and the lives of everyone she meets.
I am so grateful for these pieces that remain as she and I walk this hard road together, this journey through the unraveling of her mind. And I am grateful for Jeanne Murray Walker's stories about her own travels through this strange terrain in her compelling book, The Geography of Memory: A Pilgrimage through Alzheimer's.
Please follow me over to The High Calling to read more and to join the interesting conversation happening in the comments. Click here.