Another installment in the series of reflections I'm writing on this final walk I take with mom, the one through dementia. You can begin reading here, and then click over to A Deeper Story, where I'm writing for the Family Channel today.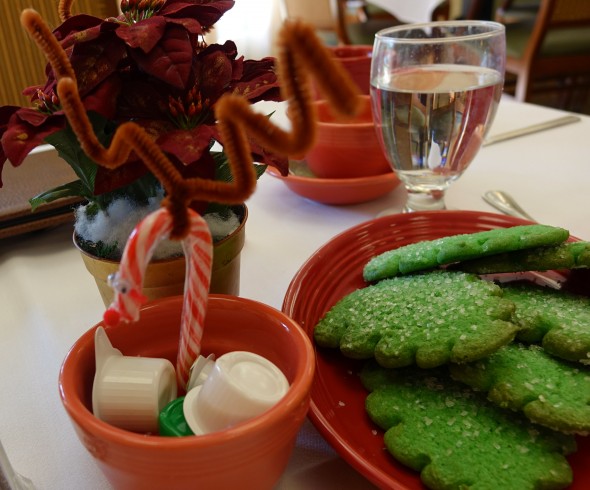 The sun streams in through the French doors on the south side of the building, adding warmth and light to the carefully set dining tables. It's a lovely space, recently redecorated, with linen napkins popping up out of the water glasses. My husband and I eat lunch here every Sunday, joining our moms for a nicely presented 3-course meal.
There are floral centerpieces on each table, assembled every Wednesday morning by the people who live here, under the gentle direction of two volunteer Garden Ladies. Today's bouquet consists entirely of white rosebuds and looks lovely as we take our places around the table.
I must say that the dinner guests are an interesting assortment. All of them are over 75, most of them over 80. A few – like both of our mothers – are over 90, moving closer every day to the century mark. They move slowly, these diners. A variety of metal walkers are lined up along each wall and I always hold my breath until all the stragglers are safely seated at the table of their choice.
Last Sunday, we counted 12 residents out of a possible 15. One is out to eat with family, one chooses to remain in her room, and one – my mother-in-law – is too sleepy to sit up at the table. One of those missing is a singer. During past dinners, we've heard the battle hymn of every division of the US military, "Home, Home on the Range," "You Are My Sunshine," and a few we don't recognize.
This Sunday, however, that voice is missing. At first, it feels like a relief. A quiet meal! But after a while, the silence becomes thick and cumbersome, like a too-heavy blanket on an overly warm day. 
 You can continue reading this post over at one of my favorite sites on the web, A Deeper Story. . .