Both Laura Brown and Jessica Turner have invited bloggers to post old pictures and tell stories about them in a meme called "Throwback Thursday." Laura's is specifically tied to her lovely book, "Everything That Makes You Mom," and the request from her was to share an old picture taken with my mom. I don't have many of those, at least not in digital form, so these three will have to do.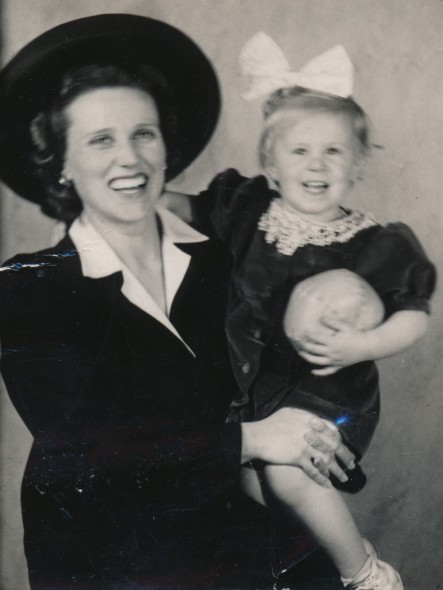 My mother, in her heyday, was truly a larger-than-life person.
That hat, for instance.
And the gigantic bow atop my head.
She started those bows when I could barely hold my head up,
ostensibly to announce to the world that this was a female child.
Apparently my baldness led many to believe I was a boy,
and my mom was having none of that!
I was a much-wanted child, long-awaited, and adored by my dad.
My relationship with my mom was more complicated,
very different from the easy, quiet companionship I enjoyed with my father.
Part of that is because my mother was a flaming extrovert —
easily the most socially gifted person I've ever known.
My father was quiet, reserved, careful.
Mom was glamorous, dramatic,
a loud laugher and a loud crier.
She was also an extraordinarily creative homemaker and hostess,
usually operating on the slimmest of budgets.
She set beautiful tables, told wonderful stories,
often acting out each part,
and she brought light and laughter wherever people gathered.
She was also deeply insecure, believing herself to be 
intellectually inferior to my dad and to most of her friends.
She had a mother-in-law who was sharp-tongued and 
judgmental and a father who belittled and verbally abused her.
So when I was growing up, she depended on me to be 
an emotional sounding board and a hands-on helper
with all things domestic.
For most of my growing-up years,
she was my very best friend.
I idolized her and thought she was the smartest
and most beautiful woman I knew.
and I tried to please her in every way I could.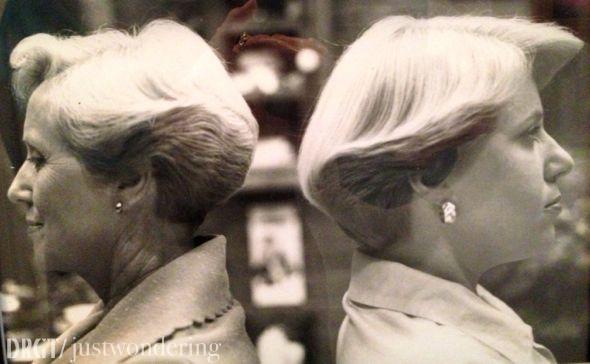 My mother loved me and, most of the time,
she also liked me.
She struggled to understand me, however.
In some ways we are similar, sharing
a lot of the same interests and laughing
at the same jokes.
But in other ways, we are most definitely not alike,
and during those early years,
I intuited that it was not okay to step outside the box she drew,
the box of acceptable behavior and language,
of dreams and goals.
She worked hard at being a mom.
Until the last two years of high school, she made almost all my dresses.
She coached me in public speaking when I was ten,
helping me to be at ease in front of hundreds of people —
and to enjoy doing it, too.
Although she never finished college,
she read widely and well,
and she had a great facility with language. 
I remember being given a long list of my mom's favorite authors
when I was in elementary school,
then walking through the traveling library-van to find them.
I read voraciously, from about grade two right up until today.
Because of her encouragement, I read well above my
grade level and in the process, learned a whole lot
of great vocabulary words. How?
Whenever I came to a word I didn't know,
I'd spell it out and she would pronounce it and
tell me what it meant.
I thought she was the smartest woman I knew.
And the most beautiful.
And, of course, she is the most genuine extrovert I know,
always smiling that 100-watt smile,
reaching out with a hand to touch an arm
or a shoulder, offering kind words
and a gentle laugh.
Even in the midst of her dementia,
she does these lovely things,
saying 'thank you so much,'
and 'I'm so glad to meet you,'
and, 'Have you met my daughter?'
Yes, Mom. I've met them all. Many times.
But I'm happy to meet them again. And again.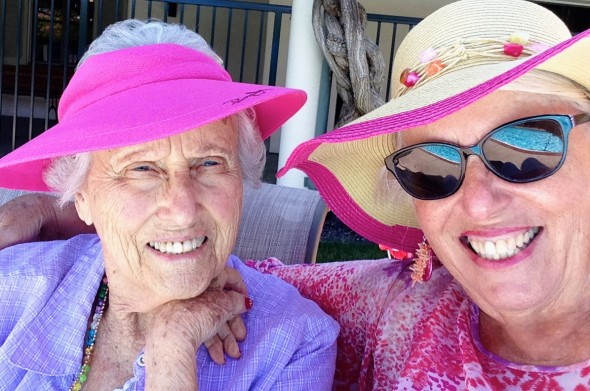 She is still one of the most beautiful women I know.
And she is still that flaming extrovert,
gifted with social skills that she uses with grace and aplomb.
The vocabulary is shrinking by the day,
as she loses more and more of her ability to communicate.
I miss her.
I miss our good conversations, our shared reading projects,
our party planning and execution.
And I am so deeply grateful for her and to her:
for being such a terrific mother in so many ways;
for modeling marital commitment through thick and thin;
for being a lifelong learner, genuinely fascinated
by this world and all its wonders;
for her deep, seeking heart,
hungry for God and goodness.
She taught me so much.
And she still does.
Joining this with Jessica at The Creative Mom's Thursday link-up.
AND — Mother's Day is right around the corner and Laura Lynn Brown's beautiful, small book is a perfect gift, especially if you fill it with some good, shared stories. You can order it here.