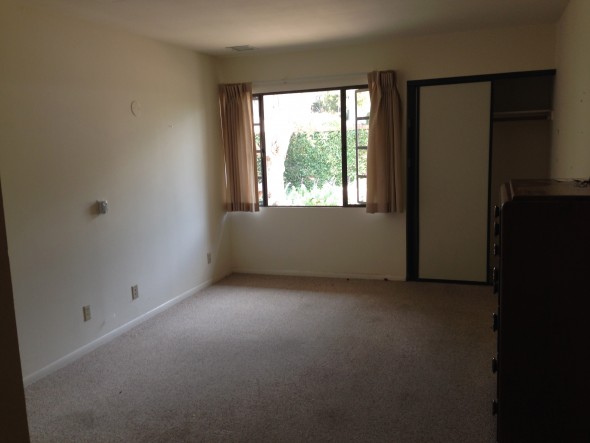 It was a strange feeling to walk out of that room for the last time; it had been her home for the last five years, with just enough space for a few personal belongings, a private bath, and a small view of the lovely patio outside. Yesterday afternoon, we closed the door of Room 80 at the memory loss center where she lived, where she died.
We picked up the last of the furniture, filling both of our cars to do so; some of it will go to her eldest great-grandson, who will soon be setting up his own place.
It was a graduation weekend, you see. In every sense of that word. 
We got the call on Friday night. The Hospice nurse, who had been so faithfully checking on my mother-in-law each week for the last two and a half years said, "Something has shifted. This is the weekend and I just wanted you to know." An hour later we were there, and it was true. There is a 'look,' an other-worldly sense that someone is not long for this plane. And we saw it.
We felt it. 
I took out my small prayer book, the gray one that I carry in my car at all times. The one with the beautiful prayers, the particular scriptures, and I made the sign of the cross on her forehead and I read the words I love so much, to this woman that I love so much:
Into your hands, O merciful Savior,
we commend your servant, Kathryn.
Acknowledge, we humbly beseech you,
a sheep of your own fold,
a lamb of your own flock,
a sinner of your own redeeming.
Receive her into the arms of your mercy,
into the blessed rest of everlasting peace,
and into the glorious company of the saints in light.
Amen.

May her soul and the souls of all the departed,
through the mercy of God, rest in peace. Amen.
– The Book of Common Prayer
And the next morning, we made the 140 mile drive south to celebrate Ben's graduation from Chapman University, Dodge School of Film and Media Arts. And we congratulated him on winning Cinematographer of the Year and a lovely grant for his next project. We hesitated about going, but decided that if Mama were able to talk it over, she would say, "Go! Celebrate. Give Ben my love."
And so we did. We gave him her love.
So much love.
Kathryn with her first born, Richard, 1942
We have lived such a blessed life. We have surely had our share of pain and struggle; we have endured wildfire and near-flooding, burglary and accident, disease and death. 
But we have had so much love.
Our children were the only ones in their circle of friends who had all four of their grandparents still living and active while they were students in college. At the time of her death, my MIL had fifteen great-grandchildren, one of them named for her, many of them with stories to tell about her great laugh, her delight in them, her fabulous cooking skills.
We know how rare this is.
And what a great gift.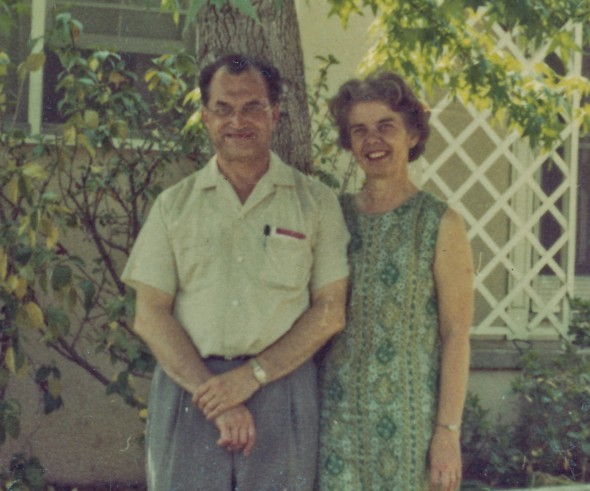 On a warm summer evening in 1968, soon after that first born,
his wife and infant daughter returned from two years in Africa.
I suppose on the strange and twisted scale of celebrity and fame that captures the minds of so many, Kathryn Trautwein was not a 'big' name. She never caused a scandal, she never made a 'name for herself,' she never wrote a book. From the outside, there wasn't much that seemed the least bit big or celebrated about her.
But she was big in the hearts of her family. She was big in the hearts of her many friends. She was big in faith, big in love, big in laughter, big in commitment and joy and service. 
She was a remarkable mother-in-law. When it became clear that her son was getting serious about this younger student at UCLA, she called, and made an appointment to meet me. We had tea together in the living room of the small Christian sorority to which we both belonged, and she asked me some good questions. I think I was 18 years old when we met.
I passed muster. Because from then on, I was included in every family gathering – and there were many family gatherings! – and assumed to be part of the tribe. I was never criticized for anything, even though I'm sure she must have had a lot of questions about decisions I made and the way I raised my kids. 
They lived 5 minutes from us, she in the house she shared with her husband for 62 years, we in three different homes, the first of which she found for us. The only time I can ever remember her saying 'no' to me about anything, was to a house I was considering that had a pool in the backyard with no fence around it. She never learned to swim and hated getting wet, and she could not imagine her grandbabies surviving such danger!
I'm glad she said 'no.' I trusted her judgment and God had a much better house in mind for us, one where we raised our three for thirteen good years. A house she loved and enjoyed, too.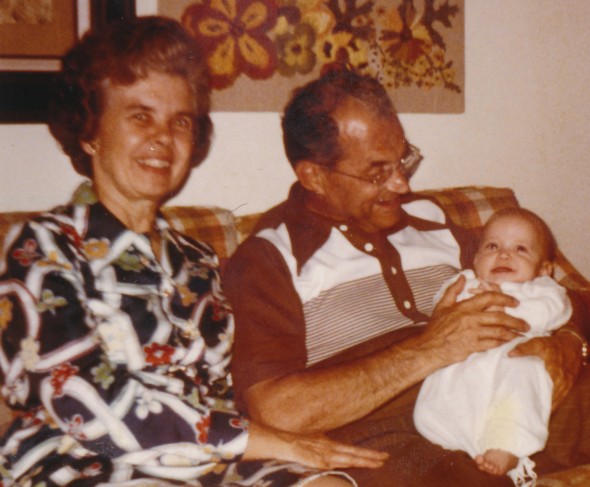 Mama & Papa with our son, 1972, in the house that she found for us.
It was his surprise arrival, bringing our brood to three, that pushed us into house-hunting again.
If I needed help with the kids, she was there. If I needed advice about cooking (NEVER about sewing!), she was there. If I needed advice about gardening, she was there. And she was there for a long list of other people, too. She was intelligent, well-read, loved crossword puzzles, made the world's best short ribs and a magnificent 3-layer cake.
She was an active volunteer at their church and at Christian Women's Club, where she taught and mentored younger women, and she helped with the Women's Auxiliary of Fuller Seminary, where I later became a student. That was probably the decision of mine that caused her the most inner anguish. She did not come from a tradition of women in ministry and she wasn't quite sure about it. But she never doubted God's call on my life and after my installation at Montecito Covenant, she said the most interesting thing to me: "Now, you belong to the people here."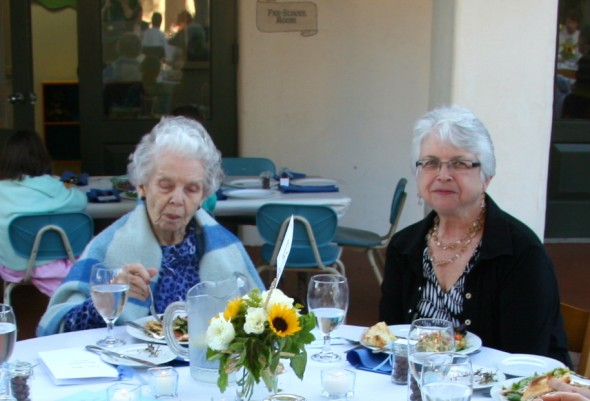 At our daughter's wedding reception in 2011, one of her last outings anywhere, with Dick's sister Jean,
on the patio of Montecito Covenant Church. Such a happy day, but she struggled to be there.
And she was right. For fourteen years, I belonged to those people, as one of their pastors and as a kind of through-line during a lot of challenging transitions. 
But I also, and always, belonged to my family. And she was such a central part of my family, such a central part of me. I will be forever grateful for her love and encouragement. And I will miss her until the day we meet on the other side.
On Mother's Day this year. She died two weeks later.
Driving into the driveway at 11:00 on Saturday night, after the graduation festivities and the long drive, we called to check. "She's still here." "Good," we said, "we'll be there tomorrow."
And so we kept vigil all day Sunday. What a privilege to sit in such holy space, to wait while the angels gather, to greet family as they come to say good-bye, to say 'thank you, thank you' to the amazing aides who loved her well during her time in this place.
Our nephew came and brought his three young children. Our daughters made the long drive and brought their husbands. Our son had been there the day before. All of her 'local' grandchildren came by to say farewell. At 5:00, we checked out for the evening, gathering good Mexican take-out food, and eating it on our patio with our girls and their men. Just as we finished, the phone rang. 
"I went into her room to check on her . . . and she was gone."
Just like Mama, to leave quietly, no fuss.
We returned to that space, met my friend Sherry, who is the chaplain at The Samarkand Retirement Community, said a few more prayers, picked out some clothes to send with her body, talked with the hospice nurse who made everything official.
THIS is who she was – a beautiful, caring, faithful woman of God,
who loved her family and lived well.
Kathryn Trautwein was a true gift to this world. A brave woman, a strong one and a good one. She loved us well. We are grateful for her long life, and we are grateful for her release from it. I find myself saying 'thank you, thank you,' just under my breath; drifting off to sleep at night, waking in the morning, these are the words in my heart and on my lips.
She will be buried on Monday, in a crypt in Ontario CA that she will share with her husband of 64 years. Jean, Dick and I will make the long drive and I know our rich memories will carry us all the way there.
Like her father before her, she was an occasional poet. These are two of my favorites, ones we will include with her memorial folder at a service of celebration in the Chapel at The Samarkand Retirement Community in Santa Barbara on Sunday afternoon, June 8th, at 2:00 p.m.
Untitled

How like God to have His 
lamb be born in a stable.
Be announced to and first
worshiped by shepherds.
Be dumb before His
accusers then be
sacrificed for me and
be risen as my Good Shepherd.
Now I the obedient sheep do
follow him!
–  Kathryn R.B. Trautwein

Potter's Ware

I am God's
    signed, named, original
    not cloned with many likenesses,
    one of a kind,
made in His image,
    treasured by Him,
    valuable in His sight.
A simple earthen vessel but
Indwelt by eternity.
— Kathryn R.B. Trautwein