So . . . remember that post I wrote last week? The one about Love and Fear? Yeah, that one.
About three days after it went live, I apparently had a kind of panic attack, the night before I was to visit the surgeon to learn if I'd be on schedule for this healing process or have to add more weeks on the dang scooter.
That was NOT fun. And it set off a bout of esophageal problems that I've run into once or twice before — days of heartburn, back and chest pain, inability to eat much at all. Last time this happened, it took the better part of a month to resolve.
The great news I got at the surgeon's office (begin partial weight-bearing and physical therapy now, two weeks ahead of schedule) was quickly offset by feeling absolutely lousy and remarkably frightened about it all.
So much for 'love casting out fear,' right? It seems this is a lesson I never quite learn. And it's not going to get any better as I continue to age, of that I am quite certain. As we get older, a lot of our youthful defenses can't quite pull off what they once could, and different kinds of intervention sometimes become necessary. 
My kind and patient husband and I went through one long day of medical testing to confirm my own diagnosis of this condition and my gastro doc 'just happened' to be in the lobby when I was near his section of our clinic. He promptly did a complete endoscopy.
The confirmation came when he sprayed an absolutely vile tasting numbing agent into the back of my throat and for the 60-90 minutes that stuff numbed me up, I was symptom free. He did find a few small things going on in that department, but apart from the very likely possibility of a spasm in that long tube between throat and tummy, there is no clear reason for this siege.
Except.
Stress brought on by worry.
Man, that's hard for me to put into writing. So, he prescribed some stomach-soothing liquid medication, and a new variety of prescription GERD treatment.
And also? Ativan, to be taken whenever I feel that panic rising.
Somehow, that feels like a huge personal failure to me. Yet another of the many painful lessons I'm learning as we walk through this L O N G period of recovery and rehab. Deep breathing and the Jesus prayer are not always going to cover it all. They're just not. 
Despite my ill health, my disappointment in myself, and my overall fatigue with ALL of this, I wanted to go to church. It was Communion Sunday and Pastor Don was into 1 John 5. Oh, how I needed to worship, to sing, to pray, to hear the Word. And to sit with God's people.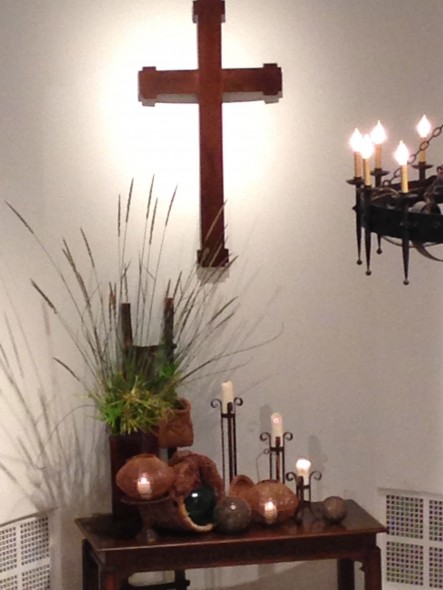 I was reminded — again! — that we don't do this journey alone, we belong to one another. That's the way God designed and intended the Christian journey to flourish. We gather together, in the same space, and we remember that we cannot do this discipleship thing without the company of others.
And when you've been sitting on your butt for 7+ weeks, these moments of community gathering are essential, believe me when I tell you this. The service was lovely, filled with grace and good humor, lovely music, a well-preached word. And the Table.
Oh, the Table. The remembering and the re-membering and the visual picture of the body of Christ streaming forward to share in the Body of Christ. Yes, yes! I needed this.
This is the great, old palm tree that stands tall in my backyard. I love it. And when I manage to scooter my way to the chaise lounge that faces it, I sit and stare for a while. And I marvel.
Birds by the dozens flit in and out of it's immensity. All kinds of birds, from tiny sparrows to red-headed woodpeckers to noisy black crows. And there's room there, room for every one of them. A safe space to build a nest, to nurture the hatchlings, and to rest, away from the dangers of coyote and bobcat, of riding mower and leaf blower.
I am deeply blessed to be able to say that church has always been such a place for me. Worship is a safe place, a nurturing place. A restful place. I'm so grateful that this is true in my life and that, despite the frustrations and limitations of these weeks, I am still able to be there.
It's a humbling thing to have to acknowledge that even after many years of following Jesus, and many experiences of grace made real, I still do battle with fear and worry. I am asking for grace, most especially for myself just now. And for gracious acceptance of the limits within which I must live the rest of my life. The physical ones are difficult enough. But the emotional and spiritual ones? Those are proving to be the biggies, the ones that need daily relinquishment.
As always, I'm standin' in the need of prayer.