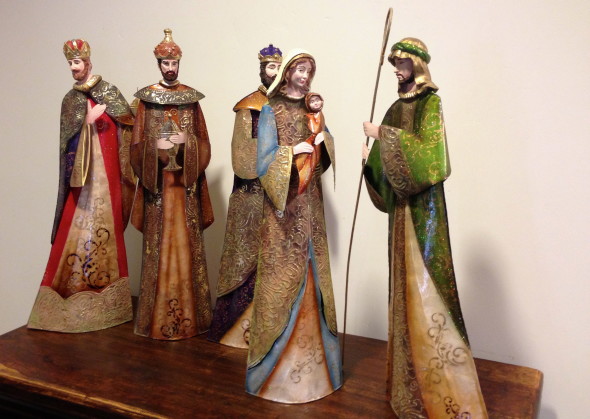 Micah 5:1-5a, NLT 

Mobilize! The enemy lays siege to Jerusalem! With a rod they shall strike the Judge of Israel on the face.

"O Bethlehem Ephrathah, you are but a small Judean village, yet you will be the birthplace of my King who is alive from everlasting ages past!" God will abandon his people to their enemies until she who is to give birth has her son; then at last his fellow countrymen—the exile remnants of Israel—will rejoin their brethren in their own land.

And he shall stand and feed his flock in the strength of the Lord, in the majesty of the name of the Lord his God, and his people shall remain there undisturbed, for he will be greatly honored all around the world. He will be our Peace. And when the Assyrian invades our land and marches across our hills, he will appoint seven shepherds to watch over us, eight princes to lead us.
Surely this prophecy was written for something that happened within, or soon after, the lifetime of the prophet. And yet, here is this beautiful kernel that speaks of something way out in the future, something Micah didn't have a clue about.
"He shall be our peace. . . " Now that, I can live with. That, in truth, brings life — and hope and of course, peace, to this over-anxious Nana. I love seeing it highlighted, where I can pick it up and turn it over in my mind, say it out loud while I walk and pray.
What we're doing in this Advent devotional series is what the ancient church called lectio divina, or 'holy listening.' We're taking (usually) short passages and reading through them slowly and intentionally and asking God to bring a small phrase, a line, or even a single word to the front of our minds as we listen. 
And that is the one that pops for me in this passage. What about you?
Thank you, Lord, that you are all about peace, that you bring it, you live it, you promise it, you hallow it, you show us how it's done. Be our peace this Advent and into the year ahead of us; help us to listen to you well.