We don't have any little ones around these days. Our youngest granddaughter, whose name is Lillian (Lilly), started kindergarten yesterday, and I can hardly wrap my mind around that reality. She is so tall, so smart, so much fun!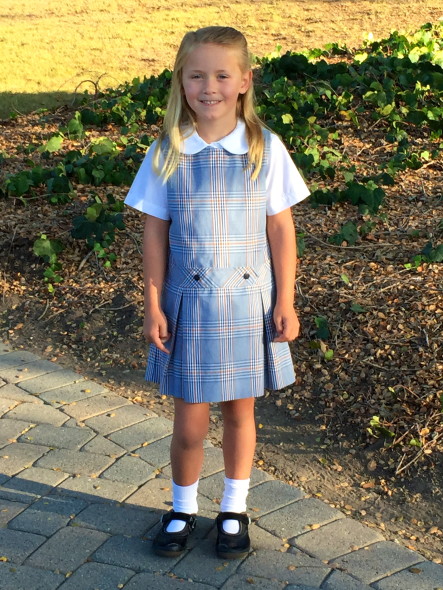 Wasn't it just yesterday that she was this size?
She was just waking from her nap when I snapped this picture, during one of the earliest weeks she was with us after her mama returned to her medical practice. Twice a week for the next two and a half years she came to us — such joy! Having these last two grandchildren — and our only two girls out of eight — near enough to help with childcare has been one of life's richest gifts during the last nine years.
But this week marks a whole series of turning points in our family circle. Dick & I are in a new-to-us, smaller home (if you want to follow along with our move and settling in process, sign up for my twice-monthly newsletter . . . and get a free eBook, while you're at it! I send lots of pictures with each letter :-), our eldest grandson is earning his own way as a cinematographer, our second oldest begins his senior year at Pomona College, our 4th starts his senior year of high school, our 5th finishes middle school this year, our 3rd begins to scout colleges for next year's application process, and our two gifts-in-the-midst-of-great-pain turn TEN this fall.  And, of course, that littlest one . . . well, I've already told you, she is no longer so little. 
And the truth is — I celebrate all this forward movement! This is the way it's designed to be, this life of ours. We move through ages and stages, schools and jobs, relationships and self-awareness. All of these changes are good changes. But. They are changes. Visible and visceral reminders that we're getting older, that we will not live forever, that we may very well not be around to see the youngest ones move through the transitions that the older ones are already enjoying. 
Our son texted us tonight with a picture of the brand-new, gaping hole in Lilly's mouth. She lost her first tooth on day two of school. Yet another reminder that time stops for none of us. Try as we might, we have absolutely no control of its passing. None. No matter what the cosmetics industry might try to sell us, aging is inevitable and irreversible. Period.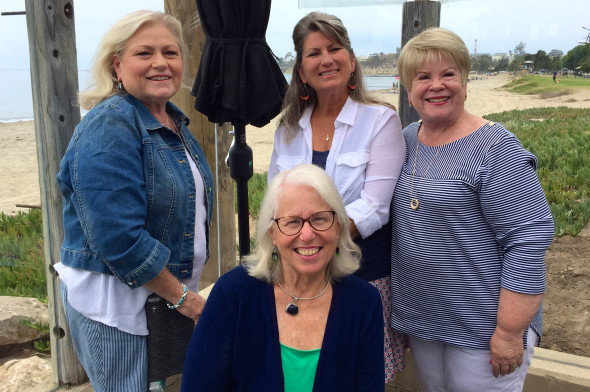 Yeah, this is a 70-year-old face, enjoying the company of my three female maternal cousins earlier this month. No one raises an eyebrow when I ask for the senior discount, far too many people offer to hold doors, help with grocery carts, and carry heavy objects. 
But here's the thing:  I am still here. And I'm glad to be. There were a couple of moments during the year just past when I wasn't entirely convinced that I would be around for long. Much as I hope for heaven, I am in absolutely no rush to leave earth behind. I love my life, even the rough parts of it. And as long as there are people to love and good work to do, I want to be here, loving and doing. 
Yes, time flies. Those of you younger than 30 will not believe that last sentence. I didn't either, especially when I had three babies under three and hadn't slept in days. But hear me when I say it again: it goes by so fast. So live your life. Be present in each moment, see if you can resist the urge to hurry it along, find something to smile about at least once each hour and say thank you without ceasing.
Because if you reach my age, you'll know this much: ALL OF IT is gift. Pure and simple, life is a gift. If you are blessed to live in a place that is free from war and extreme poverty, even if that place (like this place) is far from perfect, then you are among all people on this planet, truly gifted. Your gender or your age or your skin color or your sexual orientation may make your life more challenging at points. And yes, we all need to become more and more aware of how we each contribute to the ever-present sins of sexism, ageism, racism and homophobia, and we need to speak up for justice, goodness, truth and righteousness wherever and whenever we can.
I do not mean to downplay anyone's pain and suffering. God knows, I've endured some myself and will continue to do so. So please hear me when I say this and know that I am fully cognizant of the struggle that often defines our days. Even so, your life is a gift. To you, to those who love you, to the world where you live, work, play, study, worship, contribute. 
So make the time, set aside the time, carve out the time if you have to — but stop once in a while and just breathe. In and out. And say, 'thank you, thank you, thank you,' as you do so. Somehow, that simple act can make all the difference.
Time will still fly by, make no mistake about that. But you'll see it just a little more clearly as it marches on by you. And you just might find yourself blinking back tears as the beauty of it all spins its iridescent web around your heart.