You know what? It really is the little things. Those small spots of beauty and grace that make up our days. Moments, miracles, details. These are the things that speak to our hearts, fill us with gratitude, remind us we are loved, reveal the beauty that is beneath everything. Look for them. Speak them aloud. Say, 'thank you,' to God, to the universe, to whoever made that moment happen for you. It's the best way I know to fully inhabit your life, to see it for the gift of grace that it is, no matter how bad your day may be going, how lousy you feel, how mad you are at someone (or at life in general!). If we can see the small beauties around us, then we can remember who we are.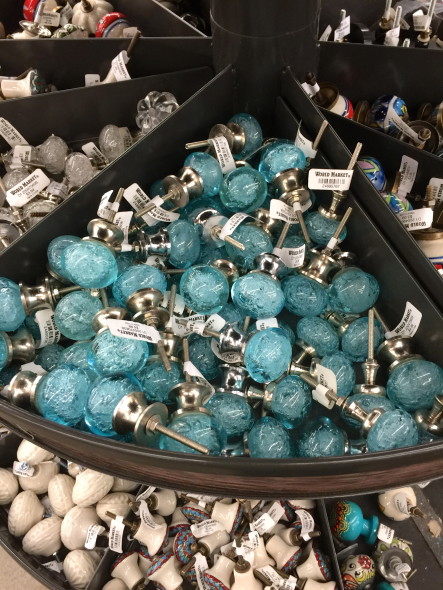 Walking through Cost Plus, just lookin' around, and nearly tripping over a strange little pocketed stand that had drawer hardware scattered throughout. Who knew Cost Plus carried drawer knobs? What I needed exactly, right there in front of me. Cracked turquoise glass ones and lovely soft green ceramic ones. One set for our new bedroom drawers, one set for the ones in my study. Gift, pure gift. And I wasn't even looking for hardware that day.
Ditto this small side chair. We had a stuffed chair and ottoman that we moved into our living room. But it was too big and bulky for this new, smaller space. And my daughter could use it. So. . . what about something smaller? And there it was, well-priced, well-made, perfect color. And we love it. Score!
And, of course, the smallest of our grandkiddos, who also are the ones who live closest to us. They are constant reminders of the goodness of God, the beauty of childhood and the truth that only little ones can speak and live. This was the first day of school for them both — grade 4 for the older one, kindergarten for the younger. And this is their front yard — formerly our front yard — and only a 2 minute walk to their classrooms, after many years of a 15-30 minute commute from their former home. A big change made some small people very happy. And that is gift, too.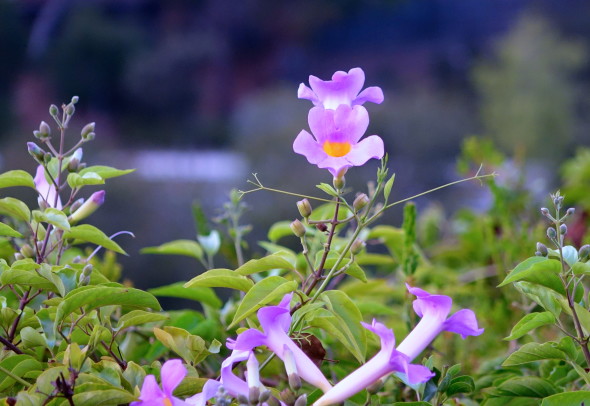 These lovely trumpet flowers pop up at the fence line in our new backyard. They begin life a vibrant purple hue and over the course of many weeks, slowly fade to white. All the while, they lift their heads to the skies and sing to me of beauty and grace.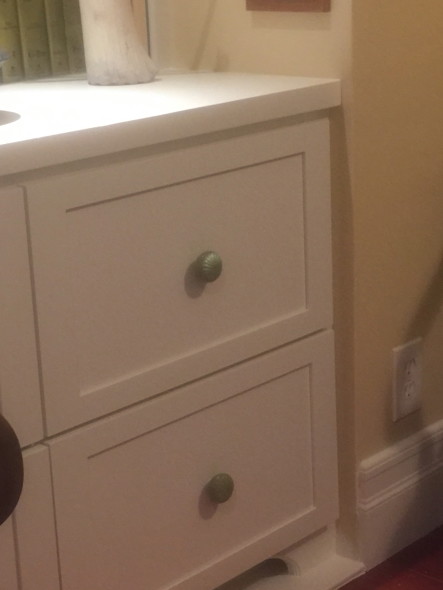 One set of those drawer knobs, in place on my wonderful new files. They work perfectly: small gifts, small gifts.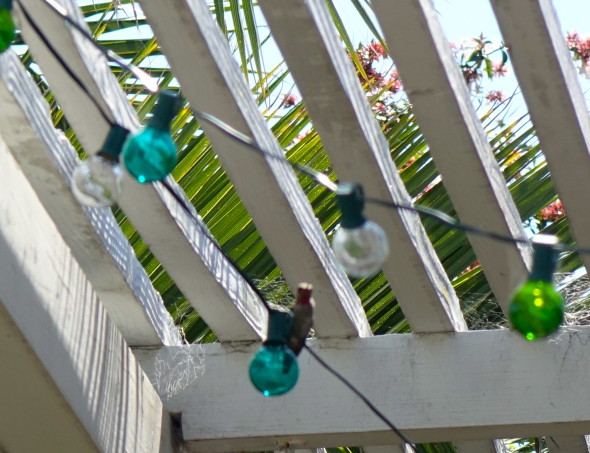 Look closely now — it's kind of blurry. But there is a very tiny bird sitting right on top of one of our new patio lights. It's a hummingbird and this is one of their favorite resting places now. Lovely, small lights now lit regularly by our noisy, fractious, wonderful hummers. We have at least five who frequent our feeders and rest on our wires. I give thanks for both the lights and the birds!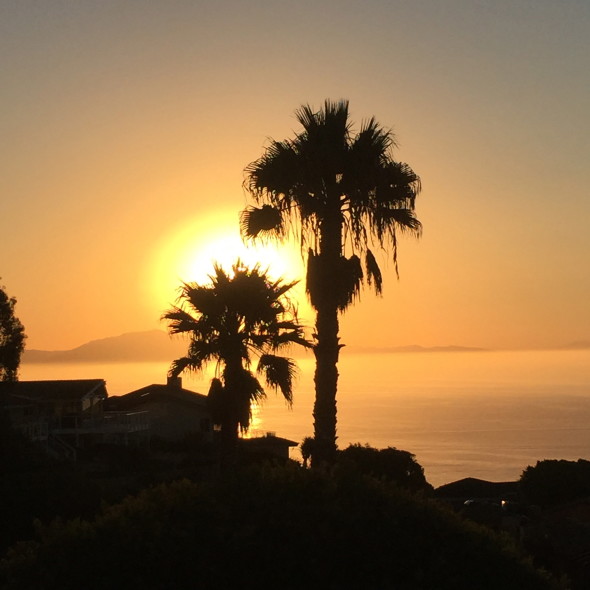 Just one moment, a single minute of my early morning walk this weekend. Gloriously lit by the rising sun, palm trees silhouetted against the calm sea. Perfection in sixty seconds. Grace. Goodness. Beauty.
I will celebrate the small as long as I breathe.
Where do you find reason to celebrate these days?