Each week of Advent, I am offering a simple prayer centered around the 'theme' of that particular Advent Sunday. Last week was 'hope,' this week, is 'peace.' These words will often flow from my own reflection on the texts and the sermon of that week. Yesterday's preaching text was Luke 3:1-6.
I gotta admit, Lord,
peace is looking a tad impossible these days.
Everywhere, we are killing one another.
Some of us use guns,
and some of us use words.
So, yeah, Lord.
Peace is feeling more than a little bit elusive,
like a shy child, hiding in Mama's skirts.
Come out, I want to cry.
Come out and settle with us.
Sit in our hearts and in our minds,
bring us together,
help us to put away those guns,
soften those words,
open these tired hearts of ours.
And then I read those words of Isaiah's as our dear
and slightly crazy friend John the Baptist used them
at the unfolding of his ministry, his odd and marvelous ministry —
of strange words and of water.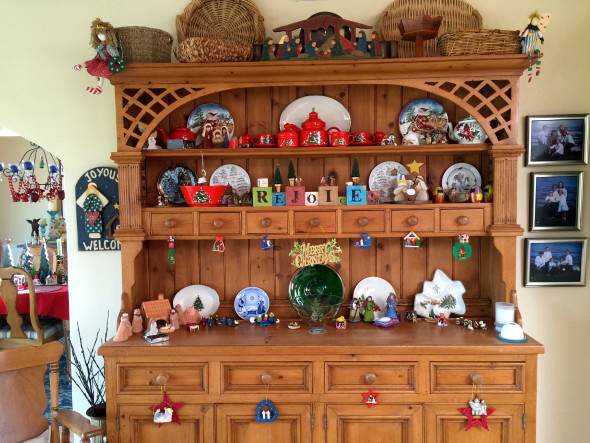 And as I read them,
I remember that the whole idea of peace has more to do with what's
happening inside me, and what's happening in your church,
than it does with what's happening in the nations,
or the cities, or the terrorist camps and capitals.
Peace has to do with my, with our, willingness to let go.
To let go of anxieties,
and of our feeble attempts to 'fix' others —
other people, other relationships, other situations.
But I struggle so to hold the heck on.
To worry things to death,
to try and manage people and things.
Oh, I am such a slow learner.
When will I remember that there is very, very little
within my actual capacity to control?
All that is given to me is the ability to choose,
to choose my own words, responses and actions.
And even that choosing has its limits, doesn't it, Lord?
Luke's gospel uses so few words to tell us about John and his ministry.
Maybe that's because John himself was a man of few words.
Yet from those words, whole swarms of people got a peek
at what You were up to in their world.
John's words were these: 'repent,' 'forgiveness of sins,' 'be baptized.'
And then your servant Luke dips into his ancient scripture text and finds a few more, these beauties from the prophet Isaiah:
"The voice of one crying in the wilderness: 'Prepare ye the way of the Lord,
make his paths straight. 
Every valley shall be filled,
and every mountain and hill shall be brought low;
and the crooked shall be made straight,
and the rough ways shall be made smooth;
and all flesh shall see the salvation of God."

       — Isaiah 40, NKJV
More than a description of the changes in our physical landscape
brought by the 'salvation of God,'
these words describe the changing landscape inside
each and every one of us.
I, for one, have a lot of hills and valleys goin' on.
Rough places?
Yes, yes. I've got more than a few.
And there is a whole lot that is crooked in here,
a whole lot that needs straightening.
The kind of straightening that only You can do, Lord God.
So, as trite as it sometimes sounds to say or sing those
old-chestnut words,
'let there be peace on earth,
and let it begin with me,'
I will say them, right here, right now.
Yes, yes.
Let it begin with me.
Come right on in here, dear God.
Trim down the hill of my resistance,
fill in the valleys of my anxieties,
straighten out the crookedness of my 
malformed desires and dreams,
and smooth out the roughness,
the edginess,
that too often rises to the surface,
especially during busy seasons like this one.
You have invited me to be your partner in peace,
real peace,
true peace,
the kind that starts inside . . .
and then works its way out.

The kind that brings lasting changes,
in us and in our world.
So, Prince of Peace . . .
do your amazing thing,
and start right here, okay?
Right here,
Inside this messed-up heart of mine.
Amen. May it be so.