Dementia is a strange process. My mother has been diagnosed with Alzheimer's disease, but who knows exactly what kind of dementia she suffers with? On the way home from our quite wonderful worship service today, I said to my husband that I needed to be with my mom today — wonderful family events have filled our days during this graduation season and my time with her has not been quite as frequent as usual. And the sermon was on the centrality of the cross to our faith, with an emphasis on the power of self-denial (not self-abnegation or self-abuse). We were reminded, with great care and attention, that the centrality of our call to follow in the footsteps of Jesus from day to day is to, 'pick up our cross.'
As self-serving as this may sound, I know what my cross looks like these days.
A quiet afternoon at home today would have been nice after our hectic week. A nap would have been nice. It is possible I was not in the best shape to spend three hours caring for my mother this afternoon. In truth, it is more than possible. 
As usual, I called her unit and told them I would be there at a certain time, could she please be ready? When I arrived, she knew someone was coming to get her, she knew that I was important, but she didn't quite understand who I was or why I should come to take her out.
I do this, on average, every 3-4 days. Not daily, not yet . . . maybe never. But often and regularly. Each time, it is brand new to her.
These are the regular questions during the first five to ten minutes we are together . . . every single time:
"Where are we going?"
"Should I bring this (pointing to her walker)?"
"What a nice car! It rides so smoothly! Sure is a good thing I'm not driving — look at all those cars!"
"Now, who are you again?"
"You're my daughter?" 
"Oh, my goodness! How smart of me!"
We drove around and around the parking garage at the mall, searching for a place to put the car that wasn't too far away from an elevator. She kept asking questions the entire time, a litany that went around and around the same territory.
Finally, a spot opened! In we went, out came the walker, out came my mama. Slowly we made our way across the row of cars to the large, very slow elevator, taking it up to the ground level and walking across the breezeway to California Pizza Kitchen.
After safely ensconcing both of us in the booth, I began to peruse the menu, trying to decide what to get for the two of us. We usually go out for lunch during the week and the CPK menu changes on the weekends. While I searched, my mother kept talking. Some of it was routine, some of it was convoluted, some of it made no sense. 
"Mom," I said carefully and clearly. "Please do not worry so much. Let's just stop and look around this lovely place and be glad we are here together, okay?"
She took a breath, I went back to the menu. Then she started in again. At a loss for what to do next, I picked up my cellphone, holding it in front of my face and I started taking pictures of her lovely, expressive face, wondering how to deflect this almost frantic routine. 
"I don't have any money. I can't find it. I'm feeling a little confused, I guess."
"What are you confused about, Mom?"
"Well, I think I need to find something to do, something that's helpful."
"What are you thinking about doing?"
"Well, I was thinking about where I go to get this done (pointing to her hair), and wondering what I might be able to do to help her up there." (The beauty parlor is across the driveway and upstairs from where she spends her days.)
"Well, Mom, you've worked hard all your life. Maybe it's time to just enjoy your life."
"How do you know about my life?"
"Well, because I've known you my whole life."
"Are you related to me?"
"Yes, Mom. We are family."
I then went back to reading the menu, looking somewhat frantically for the waitress to ask a question and then, hopefully, to order for us both.
She continued to talk.
"So, in some way we are related. So would it be all right if I asked you about that and we kept talking about it?"
I did not immediately reply.
"I take it from your silence that you're not interested in a relationship with me?"
I looked up suddenly, momentarily a little confused myself! "Yes, Mom, I'm very interested in a relationship with you! That's why I come and see you every few days, that's why we go out to lunch together."
"You come to see me every few days? Me? Are you sure it's me you see?"
"Yes, Mom, I'm sure it's you."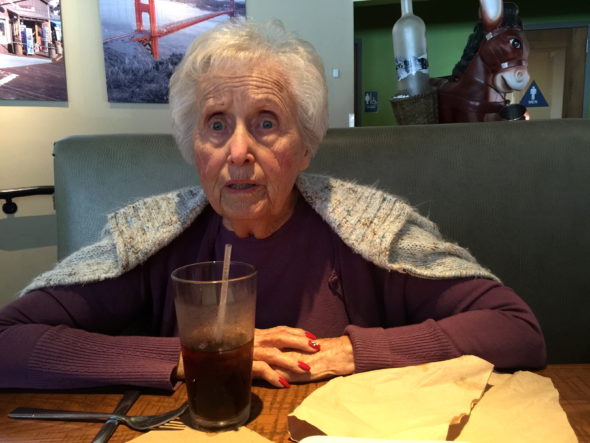 "Well, why can't I remember that?"
"Because remembering is hard for you now, Mom."
"I better get to the doctor!"
"We've been to the doctor, Mom. We've been to lots of doctors. I've taken you to doctors for the last eight years or so."
"You have? Why would you do that?"
"Because I love you and because you wanted to find out what was wrong with your memory."
Then, out of the blue, "I really need to go the bathroom." So I got up, helped her to get up and we headed down the ramp just behind our table. Just then, the waitress arrived (thank goodness!) so I asked a question, got the answer I needed and quickly ordered.
Mission accomplished, we were back in our places in ten minutes.
The questions began once again, heading in slightly different directions:
"I'm a Christian – are you a Christian?" (This particular topic was brand-new this week.)
"Yes, Mom, I am a Christian."
"Well, that's good. You know I used to be quite a spiritual person. And I think I need to be spending more of my time praying."
"Well, praying is one of the best things you can do with your time these days, Mom."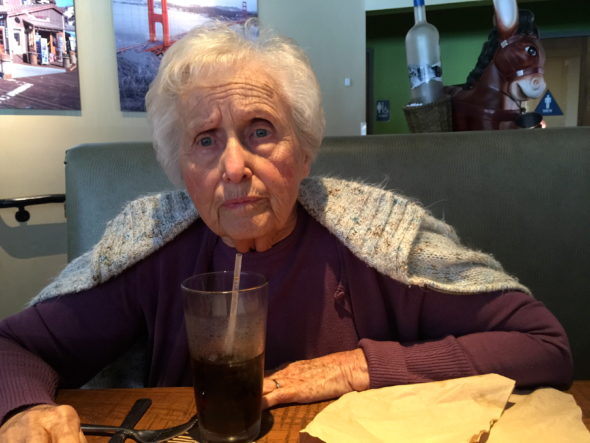 "You called me, "Mom." Why did you call me that?"
"Because  you are my mom, and I am your daughter."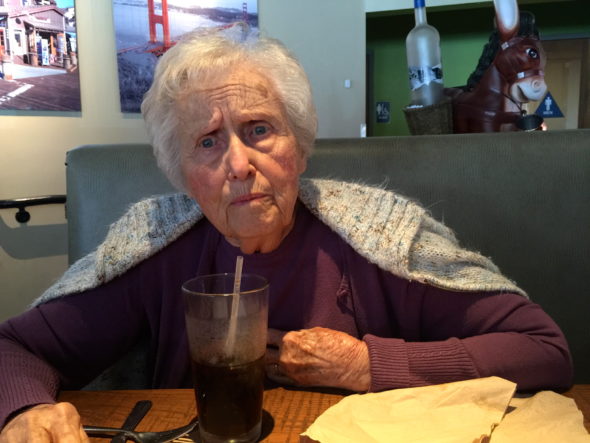 "I'm your mom? Did I give birth to you? Did I take good care of you?"
"Yes, Mom. You have birth to me and you took very good care of me."
"You're really my daughter? Why, that's wonderful news!!"
Yes, Mom. I am really, truly, forever your daughter. No matter how many times in thirty minutes I have to tell you that truth.
I am your girl.
You are my mama.
And I am exhausted.
When I brought her back to her room, I remembered to check her closet for the personal supplies that I provide for her care. She was out of everything. So a trip to CVS was in order, requiring a careful shuffling through my collection of coupons and discounts. I loaded my car, returned to the facility and a volunteer, seeing me fully loaded, pushed in the code required to open the door to her unit. 
As soon as that door opened, I saw my mama rushing (and I do mean rushing, moving faster than she ever does when we are together) toward the door, shouting, with a frown on her face: "Leave that door open! I'm going out!"
Ah, no, Mom. You are not going out. As much as you might like to go out, it is not to be. 
There were no jokes today. No threads of hymns, no singing. Confusion reigned completely this time. 
On my return visit, she did not see me. She did not know me at all. I was simply the one who opened the door and she wanted OUT.
I find myself praying that the way out will come near, near, near.
And in the middle of that prayer, heading my little Honda home, with tears building behind my eyes, I remembered the rest of this morning's sermon: "Get thee behind me, Satan," Jesus said to Peter. "Get thee behind me." 
'Behind me.'
Oh, Lord. Help me to place myself behind you. Not leap ahead into the future, not try to force anything by the (oh-so-limited!) power of my will. Not second-guess, not over-worry, not even ask 'why?' 
My mother is who she is. She is where she is. And despite all evidence to the contrary, I will choose to believe that she, too, is safely behind Jesus, following in the only way she can — blindly, gropingly, feebly . . . but . . . oh, so faithfully. 
Help me, Lord, to honor who she is right now, incessant questions, confusion, frailty — all of it — who she is right now. Help me, Lord.